"That's some low down dirty stuff," says Kent as she addresses all things Scandoval, "bottom feeder" costars and her reunion predictions.
Lala Kent dropped a new episode of her Give Them Lala podcast overnight and while it wasn't the episode she originally wanted to post, she still didn't mince words when it came to her cheating "Vanderpump Rules" costars Raquel Leviss and Tom Sandoval.
Kent explained that she originally recorded an episode with Scheana Shay, but had to pull it following legal letters from Raquel's team. Joking, "Here we are back on the podcast to give you nothing that you want right now," Lala soldiered on without Shay — but still got into the affair drama.
When asked by her cohosts whether she thinks the upcoming reunion could get physical following the revelation Sandoval cheated on Ariana Madix with Raquel, Kent said it could get fiery.
"So I'm not a physical person, I'm not trying to catch a case. There's something about putting my hands on someone that feels ick," she said. "I don't know how the rest of my cast is going to be. I think there's going to be a lot of security for sure."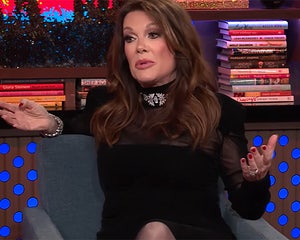 Bravo
Lisa Vanderpump on Tom Sandoval, Raquel Leviss Scandal, Apologies and What Schwartz Knew

View Story
She also opened up about her thoughts about Raquel, pointing out that it's no secret Leviss has "always triggered" her since joining the show as James Kennedy's girlfriend. "From the jump, she gave me an ick, always," she added, before saying the other women on the case "may despise her more than I do" now because they were the ones "building her up and giving her confidence" as her ride or dies before the betrayal.
"I don't know if she'll come back. I personally would leave, run away and go home. This is not good," Kent continued. "Sandoval is very much to blame. I understand dudes are just messy and dirty and for the most part they don't make the best decisions … it's just for me, expected. Sandoval's always given me a narcissistic vibe. You expect dudes to do that. But you don't expect your best friend that's a woman to do that. That is absolutely terrifying."
As the group wondered whether Leviss would have any friends left following the scandal, Kent simply remarked, "Bottom feeders attract other bottom feeders." Lala then shared why she believes Raquel has always felt like a bit of a social climber in the group.
"She's a fan, she's always been a fan. There was no one going to Pump who wasn't a fan, on that day," she said, before pointing out that after splitting from James she then flirted with Peter Madrigal and Tom Schwartz, all while possibly having an affair with Sandoval at the same time. "It feels very climby. For her to make a comeback, the group's never going to forget. That's some low down dirty stuff."
Kent said that in the weeks ahead on their Bravo show, fans will start to see her and Katie Maloney start "sniffing something" off about Raquel's behavior. She then said she hopes viewers are able to learn something from all the drama as it unfolds.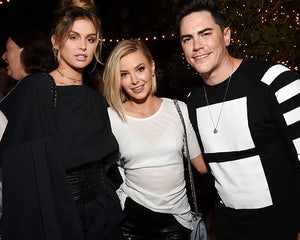 Getty
Lala Kent Calls Tom Sandoval and Raquel Leviss 'Disgusting,' as Tom Apologizes to Ariana Madix

View Story
"Yes, I want you to watch and be entertained, that's what it's all about. Obviously, this is Ariana's real life … and I'm heartbroken for her. She is going to come out of this looking at her life differently. When you guys are watching, I also want it to be a teachable moment in the sense that people like this exist," she said, seemingly referring to Tom. "I've been screaming about narcissism at the top of my lungs since my own situation. It's scary, it's absolutely terrifying and you could be sleeping next to one and they will bleed you dry in every sense of the word. If you have someone in your life that is acting that way, you cut that s— out immediately."
In a new statement overnight, Raquel said, "Besides the indefensible circumstances surrounding our relationship, my feelings for Tom have always been sincere and born out of a loving friendship, Knowing how many people we hurt, I need to understand my choices and learn to make better ones."
"I need to take care of my health, work on self growth and take time to be ok with being alone," she added. "I care for Tom and I don't want to label anything or predict what lies ahead. Right now I need to heal."
"Vanderpump Rules" airs Wednesdays on Bravo.