At a glance
Expert's Rating
Pros
Great real-world performance
Very affordable
Attractive designer-styled heat spreader available.
Cons
512GB capacity is a relatively slow writer
Our Verdict
For $50 it's hard to beat the 512GB Legend 850, which actually bested a number of 1TB and 2TB SSDs in our real-world 48GB file transfers.
I was a bit surprised when Adata sent the 512GB capacity of its latest Legend 850 NVMe 1.4, M.2 SSD. Larger-capacity drives (1TB, 2TB, and higher) generally achieve better performance numbers because of the greater amount of NAND available for use as secondary cache.
This is what I was thinking when the 512GB Legend 850 lagged on the first two tests. But then, startlingly, the drive managed a 4th-place finish in the 48GB file transfers among all the drives we've tested, most of which are 1TB and 2TB contenders. This is the test that most mimics real-world use. Color us impressed.
Note: See our roundup of the best SSDs to learn about competing products, what to look for in an SSD, and buying recommendations.
Adata Legend 850: Design and specs
Adata sent us a limited edition Legend 850 styled by German Designer Mister Fred (not Ed.). The colorful floral motif is evocative, though not particularly indicative of digital storage. If it's not to your taste, there's a more mainstream charcoal-gray and gold color scheme, as shown below.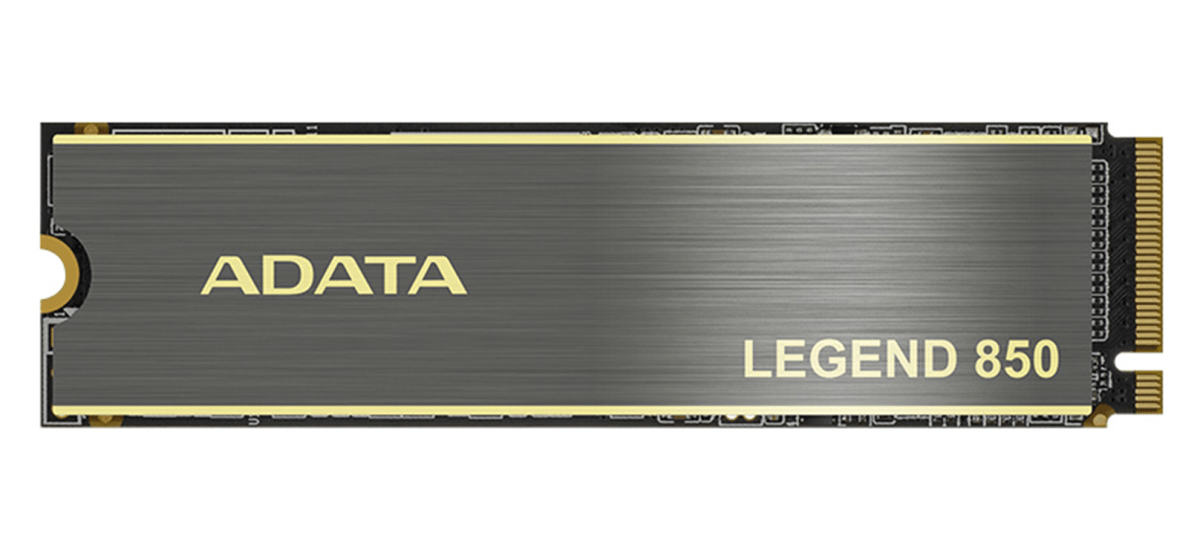 The 512GB capacity of the Legend 850 we tested costs only $48, but there are also 1TB and 2TB versions available for $90 and $216, respectively. That's a very good price for the 1TB, with the 2TB about par for this class of drive.
The Legend 850 is a 2280 (22x80mm) form factor, M.2, PCIe 4.0 SSD that uses a DRAM-less HBM (host bus memory) design. In other words, it uses some of your system memory for primary caching duties.
Employing an SM2269XT Silicon Motion controller, it was also very smart about allocating NAND for secondary caching purposes (written as 1-bit SLC rather than the 176-layer, 3-bit TLC that's the native capacity of the cells).
The Legend 850 is warrantied for five years, or 500TBW (terabytes written) per 512GB of capacity—whichever comes first. That's a rather generous TBW rating for the price.
Adata Legend 850: Performance
As noted up top, the Legend 850's synthetic benchmark numbers were mixed, with very good read scores and off-the-pace write scores.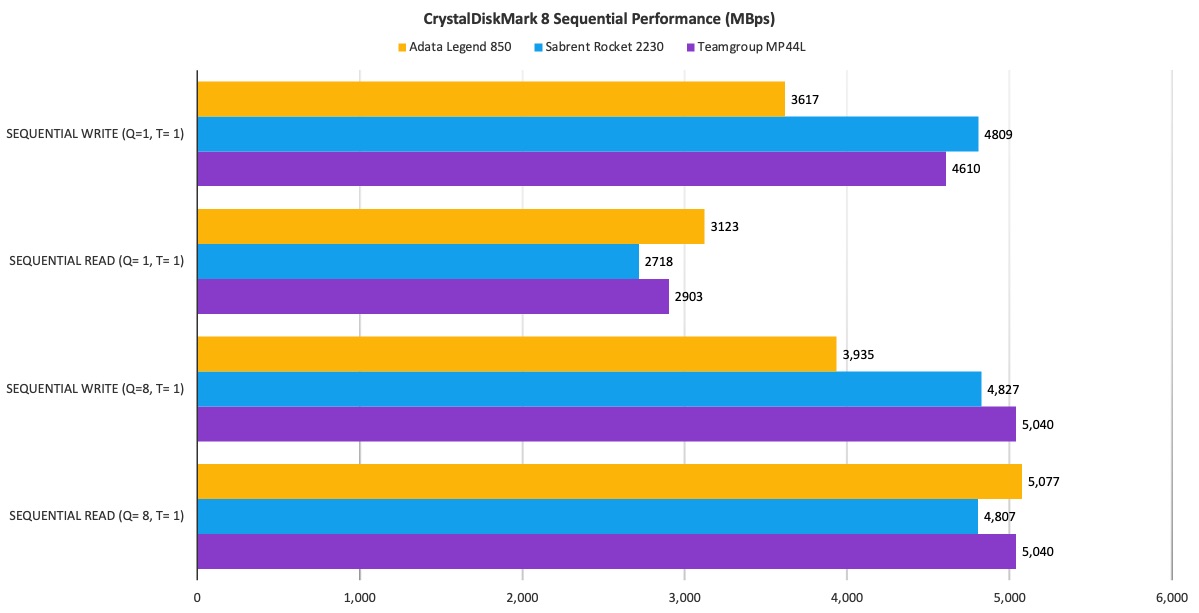 However, the drive really came alive in reading and writing our 48GB single file and data set, besting many drives with 1TB/2TB of NAND. That's no mean feat and likely due to the new Silicon Motion controller's deft handling of secondary cache.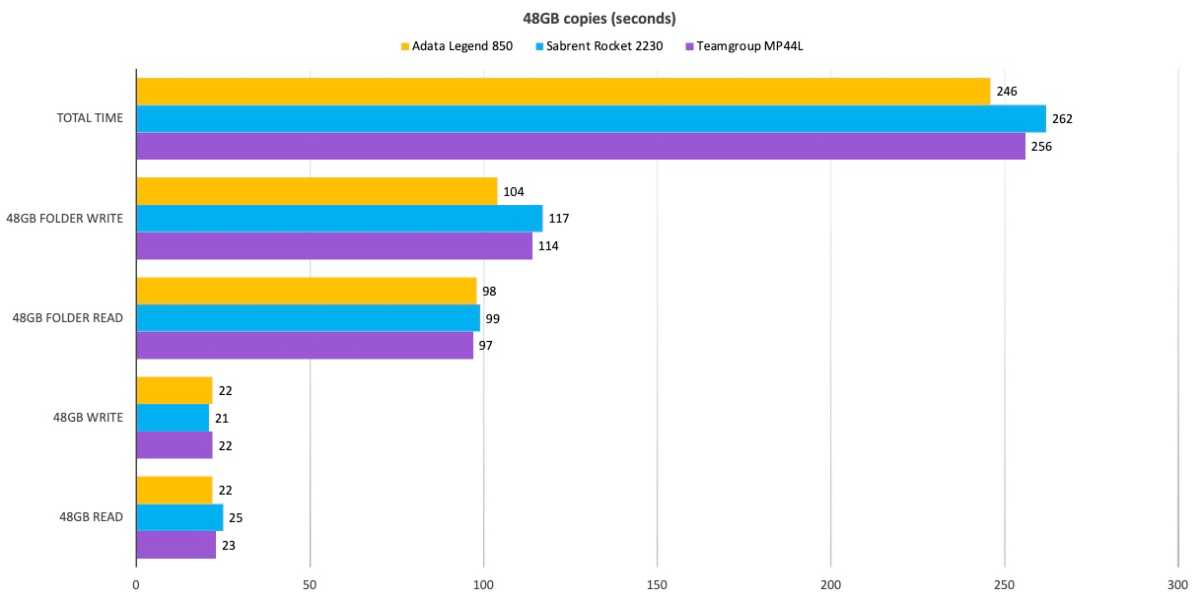 The Legend 850 came back down to earth in our 450GB write after a very good start.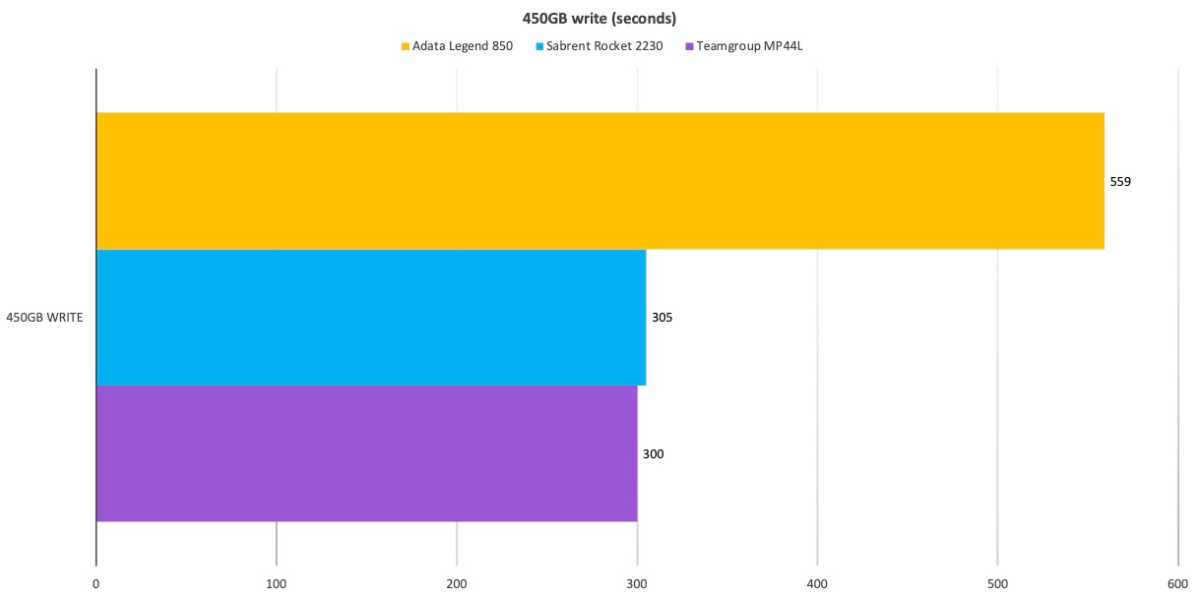 There's just no getting around the fact that it only had 62GB of NAND to spare in this particular test. You can see in the screen capture below that performance dropped quite a bit after the 100GB mark and again at around 350GB.
However, it dropped only to around 450MBps, which while not NVMe-like, is not the slothful hard drive pace we've seen from some SSDs writing off cache.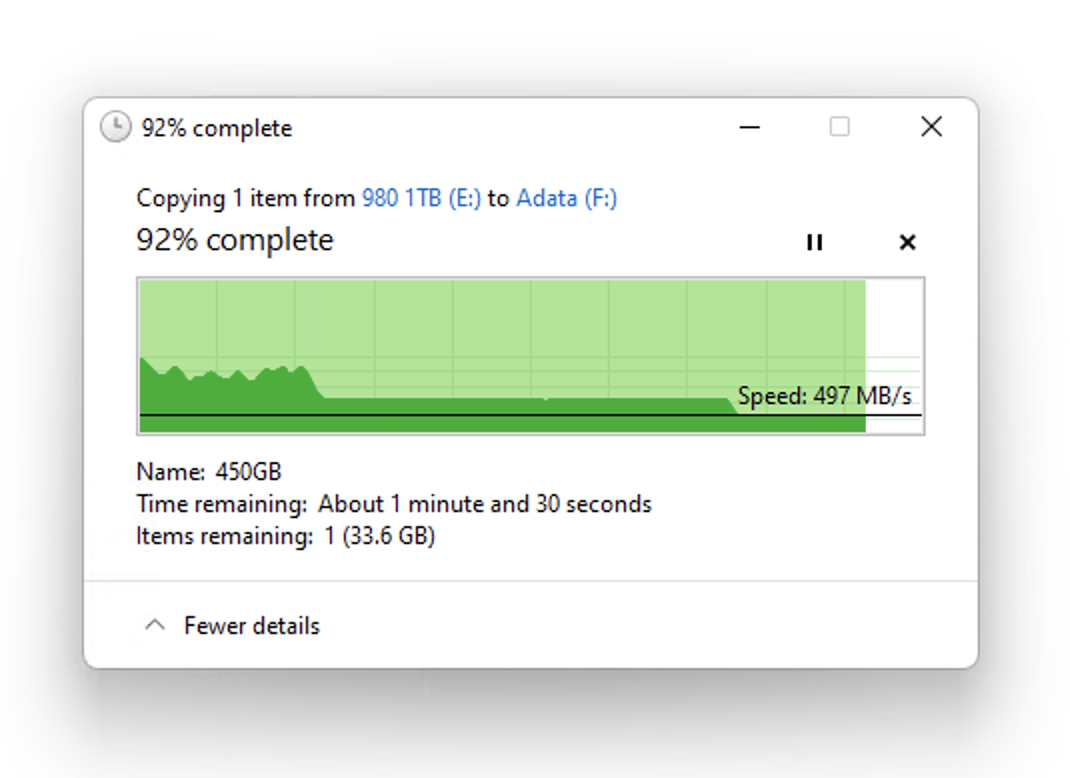 Note also that the Legend 850 formatted and optimized very quickly. Some bargain-level drives will take a comparative lifetime to perform these operations.
Internal drive tests currently utilize Windows 11 64-bit running on an MSI MEG X570/AMD Ryzen 3700X combo with four 16GB Kingston 2666MHz DDR4 modules, a Zotac (Nvidia) GT 710 1GB x2 PCIe graphics card, and an ASMedia ASM3242 USB 3.2×2 card. Copy tests utilize an ImDisk RAM disk using 58GB of the 64GB total memory.

Each test is performed on a newly formatted and TRIM'd drive so the results are optimal. Over time, as a drive fills up, performance will decrease due to less NAND for caching and other factors.

The performance numbers shown apply only to the drive we were shipped and of the capacity tested. SSD performance can vary by capacity due to more or fewer chips to shotgun reads/writes across and the amount of NAND available for secondary caching. Vendors also occasionally swap components, and Adata did not exempt this drive from the practice. If you ever notice a large discrepancy between the performance you experience, and that which we report (systems being roughly equal), please let us know.
Should you buy the Adata Legend 850?
Okay, you're not likely to want a 512GB Legend 850 for your main SSD in a fast gaming or creative PC. But for the average bargain PC or laptop it's very nice foundation or upgrade.