Everyone enjoys a monitor with great image quality but, for graphics designers, image quality is a professional necessity. Graphics designers need a monitor that has accurate color and supports the correct color gamut for their work. Monitors that fall short make it difficult for designers to know their work will look correct when it's viewed on other monitors or put into production.
This guide rounds up the best monitors for graphics design across a range of budgets. Scroll below our recommendations to learn more about what to look for in a monitor for graphics design.
For even more monitor recommendations, check out our roundup of the best monitors across all categories.
Updated 05/16/2023: To include the Asus ProArt PA279CRV as our new choice for the best 4K monitor for graphic design. Read our summary about this surprisingly affordable 4K display below.
Asus ProArt OLED PA32DC – Best monitor for graphic design
Pros
The best SDR image quality yet
Good HDR performance
Long list of image quality features
Exceptionally sturdy
Numerous inputs, plus USB hub
Cons
HDR brightness could be better 
Glare can be an issue in bright rooms
Only 60Hz, no adaptive sync
Do you want an awesome monitor for graphics design—no matter the price? Asus' ProArt PA32DC is for you.
Let's get this out of the way up front: This monitor is $3,499. That's a lot of money, to be sure, but its quality lives up to the price. This monitor has a 4K OLED panel with tack-sharp clarity, excellent color accuracy, and a very wide color gamut covering 99 percent of DCI-P3 and 98 percent of Adobe RGB. The OLED panel also provides class-leading contrast and strong HDR support, making this an ideal choice if you work with HDR content.
The ProArt PA32DC's professional focus carries over to its design. It's built like a tank and includes a built-in handle. You can also detach the height-adjustable stand and instead use a pair of screw-on legs that collapse flat. These unusual features might seem odd for a 32-inch monitor, but they'll prove handy if your work requires travel to a client's office or studio.
Connectivity is superb, too, with a total of five video inputs including a USB-C port with DisplayPort Alternate Mode and 65 watts of Power Delivery. The monitor's on-screen menus offer a massive range of adjustments and customization to help professionals tune the image to their work.
This monitor is expensive, but it's worth it. It's an ideal professional display built for the most demanding graphics design work.
Read our full
Asus ProArt OLED PA32DC review
Asus ProArt PA279CRV – Best 4K monitor for graphic design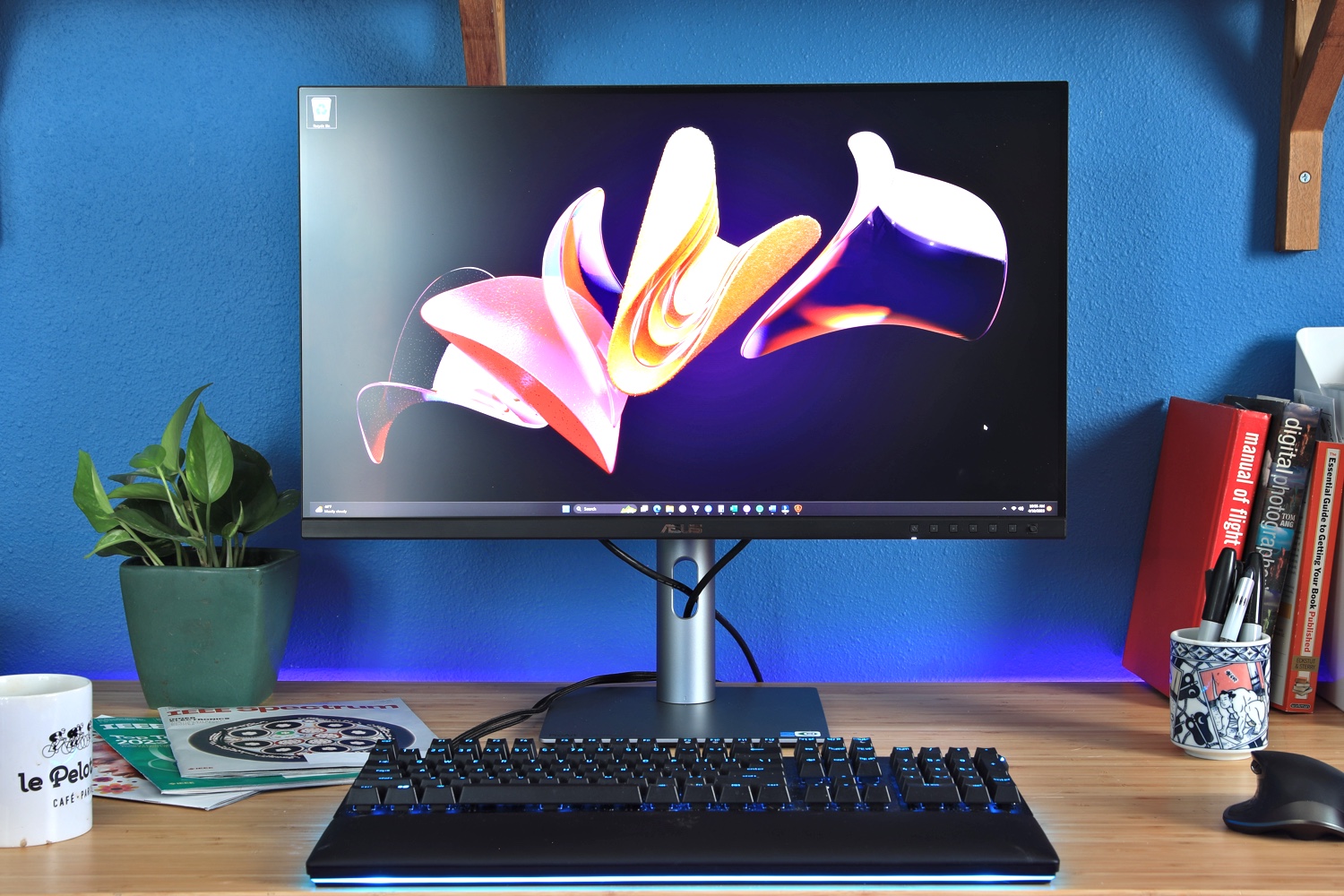 Pros
Plenty of connectivity
Numerous image-quality options
Extremely wide color-gamut
Good value for money
Cons
Mediocre contrast and brightness
Subpar HDR performance
Unimpressive motion clarity
The Asus ProArt PA279CRV is a fantastic choice for graphic designers who need a 27-inch 4K monitor with excellent color performance and image clarity. 
This PA279CRV features an exceptionally wide color gamut that competes with higher-priced displays, covering 100 percent of sRGB, 99 percent of DCI-P3, and 98 percent AdobeRGB. Color accuracy is good, as well, and the monitor offers many image quality adjustments. These are essential for accurate color representation. The monitor's 4K resolution provides superior sharpness, as well, packing 163 pixels into every inch. This will help you view larger images at 100 percent scale and reduce the need to zoom when working with images that exceed 4K resolution.
The monitor has a wide range of connectivity including one USB-C port with DisplayPort Alternate Mode and 96 watts Power Delivery, two DisplayPort 1.4 (one with Daisy Chain support), and two HDMI 2.0. The USB-C port can function as a USB hub connected to three USB-A 3.2 Gen-1 ports. The monitor pairs well with a laptop that supports USB-C, as it can charge the laptop, accept video input, and function as a USB hub over a single USB-C connection.
The PA279CRV struggles with a mediocre contrast ratio that can sap depth from games and movies. Motion clarity isn't great, either, which means fast-paced games won't appear as fluid or crisp as they would on a gaming monitor. 
Fortunately, these flaws are excused by the monitor's affordable $469 MSRP. Few similarly priced monitors can match the PA279CRV's color gamut and sharpness for less than $500, and those that do typically lack useful features like USB-C.
Read our full
ProArt PA279CRV review
Asus ProArt PA348CGV – Best ultrawide monitor for graphic design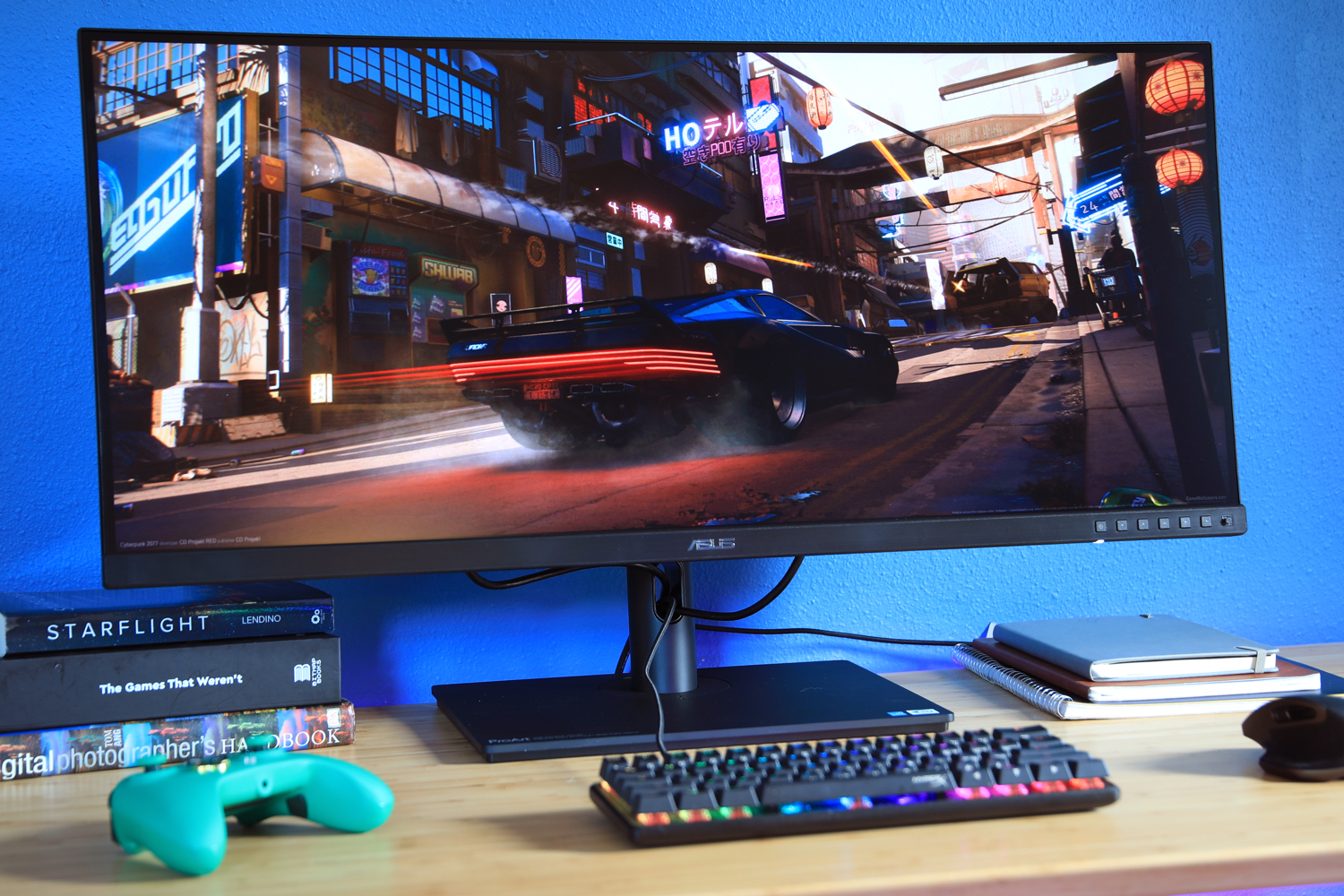 Pros
Excellent SDR image quality 
Sturdy, hefty design 
Wide range of customization
120Hz refresh rate
Cons
USB-C hub lacks video-out or ethernet
HDR is merely passable
The Asus ProArt PA348CV is a great monitor for graphics designers who want an ultrawide display.
This ultrawide monitor delivers excellent image quality. Surprisingly, its color accuracy is the best of all monitors on this list, and its color gamut spans 98 percent of DCI-P3 (and 89 percent of Adobe RGB). Overall color performance is right on par with the Dell U3233QE, which is a couple hundred dollars more expensive. The monitor's resolution of 3440×1440 is not as sharp as 4K but still looks great.
Asus throws in a wide range of features to sweeten the deal. The ProArt PA348CV has a feature-rich menu with numerous image-quality adjustments, a USB-C port that can deliver up to 95 watts of Power Delivery for charging a connected laptop or tablet, and a refresh rate of up to 120Hz. It also supports AMD FreeSync Premium Pro for smooth gaming. This monitor retails at an MSRP of $749.99 which, though not inexpensive, undercuts competitors with similar features. Other monitors can match the ProArt PA348CV on image quality, features, or refresh rate, but none beat it on all three.
Read our full
Asus ProArt PA348CGV review
NZXT Canvas 27Q – Best budget monitor for graphic design
Pros
Attractive and robust design
Four video inputs including USB-C
Great color performance
High motion clarity at 144Hz and 165Hz
Cons
Limited image quality adjustment
Speakers not included
HDR mode is barebones
It's tough to find a truly excellent graphics design monitor for less than $500. The NZXT Canvas 27Q is one such diamond in the rough.
The NZXT Canvas 27Q's color performance is shockingly good for its price. The monitor's color accuracy is superb and, in fact, slightly better out-of-box than the Asus ProArt PA32DC and Dell U3223QE. The monitor also has a wide color gamut spanning 97 percent of DCI-P3. That's not as wide as the best graphics design monitors but, for many, it will be enough.
This is a 27-inch monitor with a resolution of 2560×1440. It doesn't look as sharp as 4K alternatives but still appears pleasantly crisp. The monitor also supports USB-C with DisplayPort Alternate Mode, though it doesn't have Power Delivery for charging a connected device.
The monitor's MSRP is $339.99, but it frequently sells for just $249.99. That's without a stand, which adds $40 to the price. NZXT also offers an optional monitor arm that can clip to your desk. It's a good pickup if you plan to use the Canvas 27Q as a second monitor.
Read our full
NZXT Canvas 27Q review
Viewsonic ColorPro VP16-OLED – Best portable monitor for graphic design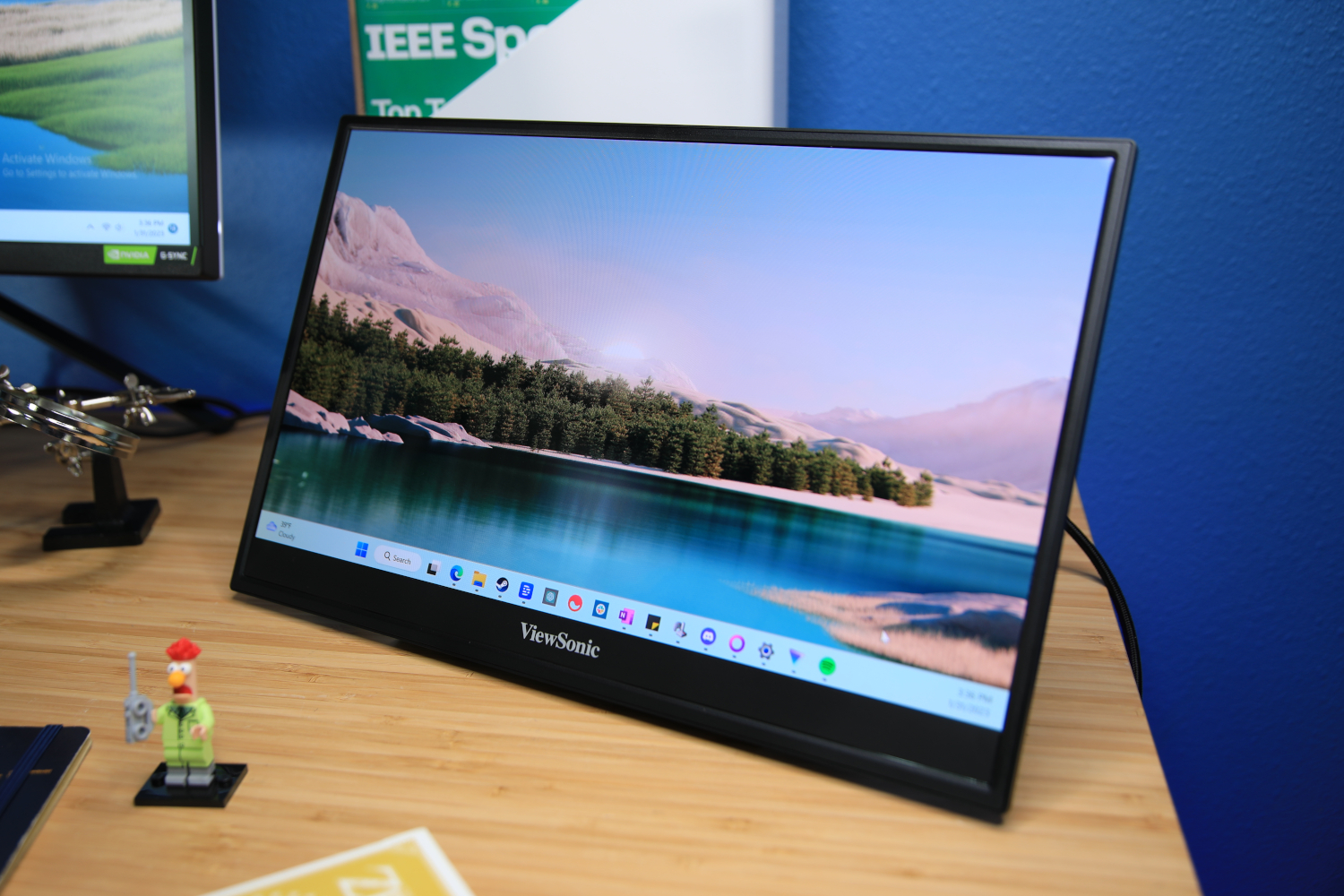 Pros
Versatile, useful stands
Good connectivity, cables included
Numerous image quality customization options
Top-tier image quality even at default settings
Cons
Speakers are included, but weak
Pricey for a portable monitor
No HDR
Viewsonic's ColorPro VP16-OLED is a portable monitor for travelers and those with limited desk space. It has a top-notch OLED panel with excellent image quality, solid brightness, superb contrast, and an extremely wide color gamut that caters to graphics designers.
The monitor has a unique folding stand that can function as a kickstand or expand into a base that holds the monitor above your desk, offering better ergonomics and saving desk space. This makes the VP16-OLED more comfortable to use over an eight-hour workday.   
Viewsonic throws in extras that graphics designers may appreciate. It has a display hood to reduce glare in bright settings, a tripod mount for on-the-go use, and ships with all necessary cables and power adapters. This includes USB-C, USB-A, and HDMI cables, plus a compact USB-C power brick. The design includes a lip around the display for protection and rigid body panels that feel up to the demands of frequent travel.  
HDR is not supported, however, and the monitor sticks to a 60Hz refresh rate. This is a bit disappointing given the price, but these omissions are unlikely to bother graphics designers. 
The VP16-OLED is expensive but justifies its $399.99 price tag with top-tier image quality, a uniquely versatile kickstand, and numerous extra features. It's a must-buy for graphics designers who need excellent color accuracy in a portable form factor.
Read our full
Viewsonic ColorPro VP16-OLED review
What to look for in a monitor for graphics design
A great monitor is critical for graphics design—you'll be spending all day staring at it, after all. Many monitors can do the job, but the best graphics design monitors have specific traits that set them apart from monitors that are great for 4K movies, gaming, and general use.
Buy a monitor with great color accuracy
Color accuracy is a key trait for graphics design monitors. Accurate color means that content you view on it will be a reasonably accurate example of what the same content will look like on other monitors, or when your work is sent to print.
Most modern monitors deliver reasonable color accuracy, but some remain much better than others. The good news? You don't have to spend a fortune to see top-notch results. The NZXT Canvas 27Q, which retails for as little as $249.99 on sale, has color accuracy on par with our top pick, the $3,499.99 Asus ProArt PA32DC.
Color gamut is critical
Of course, the similarity in accuracy between the NZXT Canvas 27Q and Asus ProArt PA32DC may leave you scratching your head. Why pay over 10 times more for the Asus?
Color gamut is a key reason. A monitor's color gamut describes the range of colors that it can display. This is often measured relative to a specific, industry-standard color space, such as sRGB, DCI-P3, Rec.709, or Adobe RGB. If a monitor has a color gamut that can display 99 percent of DCI-P3, that means it can show 99 percent of all colors included in the DCI-P3 color space.
That's why a wider color gamut is better than a narrow color gamut. A monitor with a narrow color gamut literally can't display some colors, which means they won't appear correct on that monitor.
A high resolution is preferrable 
A higher display resolution is usually preferable over a lower display resolution. A high resolution literally displays more information than a lower resolution, and that translates to more detail and the ability to see more of an image at once without zooming in. In practice, 4K is the preferable resolution for modern high-end graphics design displays, while 1440 is an acceptable alternative.
The work that you do is also important. If your graphics design is centered on web design, for example, it's less likely you will need an extremely high resolution. Photographers, on the other hand, demand high resolutions because it reduces the zooming and scaling required when working with high-resolution DSLR (or even smartphone) photos.
It's good to have options
The best monitors for graphics design look excellent at default settings, but graphics designers often need to tune a monitor's look to fit their preferences or the requirements of a client. One job may only require use of the sRGB color space, but another might require DCI-P3, and so on.
All the monitors on this list provide some degree of customization, with more-expensive models generally offering more options than less-expensive alternatives. This is where the Asus ProArt PA32DC truly excels. It looks superb out-of-box, true, but can be tuned to fit a wide range of color space, gamma, and color temperature requirements. It even includes a built-in calibration tool to dial in image quality.
How we test monitors
PC World monitor reviews are written by the publication's staff and freelance writers. We use the SpyderXElite color calibration tool to objectively measure the brightness, contrast, color gamut, and accuracy of each monitor. Objective measurements help us directly compare the quality of dozens of monitors at once.
Our tests consider whether a monitor supports any special features that give it an advantage. A USB-C hub that includes ethernet connectivity and USB Power Delivery is a bonus; we also like to see ergonomic stands, multiple video inputs, and a wide range of useful on-screen menu options.
FAQ
---
1.
What makes a monitor good for graphics design?
The two most important traits for graphics design are color accuracy and color gamut. Accurate color ensures the color shown on a monitor will be like that on other monitors, while a wide color gamut ensures support for industry standard color spaces. Resolution is also important. 4K resolution is preferred, and 1440p is the minimum that we recommend.
2.
What is color gamut, and why does it matter for graphics design?
Most graphics designers work in an industry standard color space that describes a specific range of color. The sRGB and DCI-P3 color spaces are common examples. 
A monitor's color gamut describes the range of color a monitor can support within a color space. The more, the better. Any colors that a monitor can't display within a color space won't appear correct on the monitor. That may cause an image to appear inaccurate. 
A monitor's color gamut doesn't need complete, 100% coverage for a color space to be usable, but a minimum of 95 percent of a desired color space is recommended.
3.
What is the best resolution for graphics design?
4K resolution is the most practical resolution for graphics design. It delivers four times as many pixels as 1080p, yet nearly all modern devices offer great support for 4K resolution and will have no problems displaying an image on a 4K monitor. It's commonly used in many industries and is effectively the standard for television and film. 
1440p resolution is an acceptable compromise common in budget monitors and ultrawide displays. It's not as pixel dense as 4K, but still a good upgrade over 1080p, and looks sharp in typical use.
4.
Is an ultrawide monitor good for graphics design?
Ultrawide monitors provide a wider display space which offers more usable display real estate. That's handy if you often multi-task or need to compare content frequently. You can snap a window to each side of the monitor to easily see the difference between two images. 
However, nearly all ultrawide monitors are limited to 3440×1440 resolution. The few that offer a higher resolution charge a substantial premium for the feature. This is a problem if you need to work on 4K content at native resolution.