This post is contains gifted items from Reform Cabinets, GE Cafe, Kohler, Velux Skylights and Zia Tile. Thank you for supporting our partners.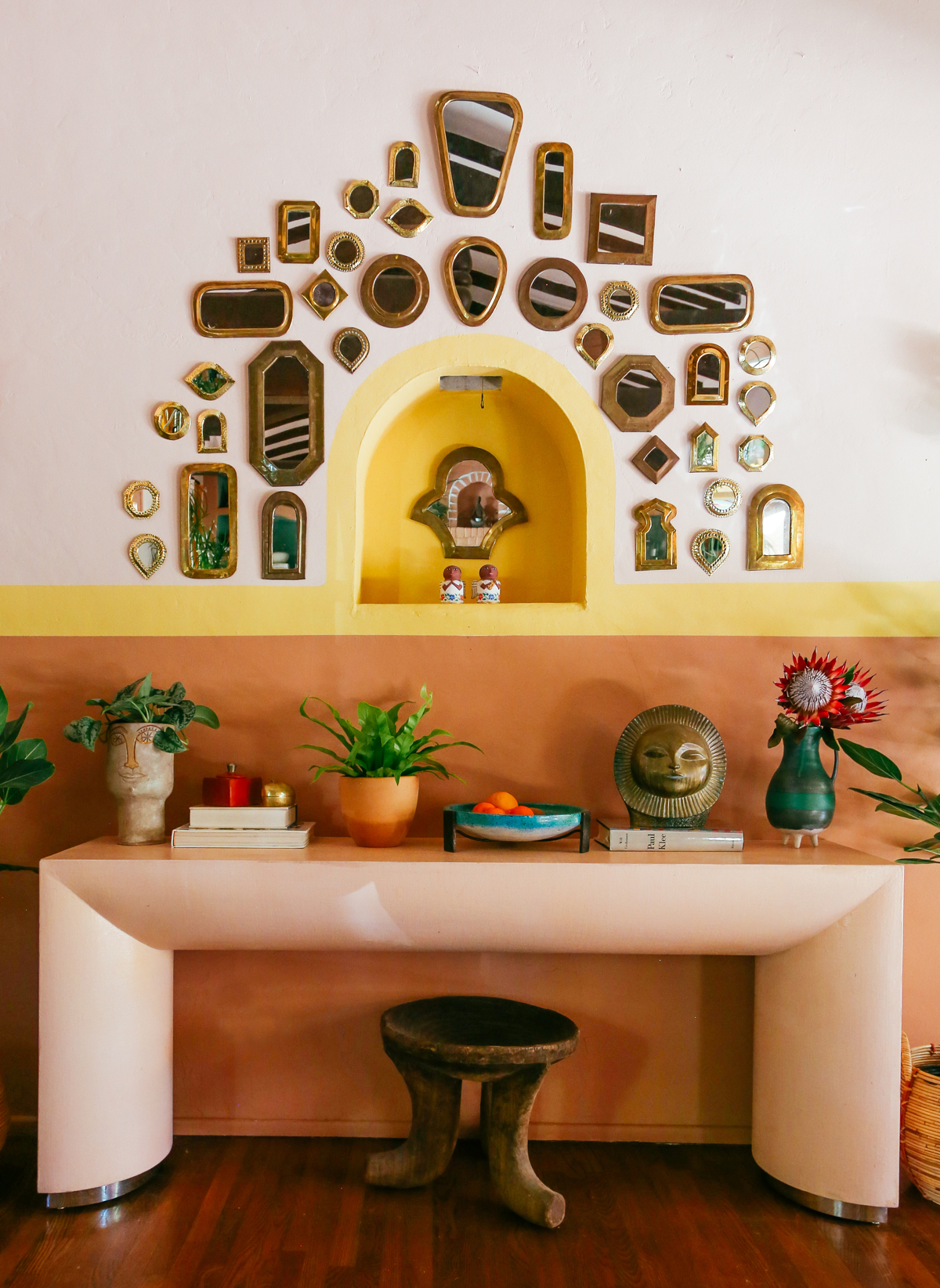 Welcome to #JungalowByTheMountain! I'm excited to invite you into our home today and take you a bit behind the scenes and share inspiration and resources into our new home.
The Entryway
First up — the entryway to our home. (Above and below).  I wanted our entryway to feel warm, inviting and happy, so we painted it a mellow yellow (Farrow & Ball, Citron). I  like to have welcoming symbols at our entryway so you'll find hands waving hello and goodbye, angels, hearts, and lovebirds all gathering here.
The vintage console table (c. 1980's) was one of the first pieces I purchased for the house. I found it on Chairish.com and I was drawn to its lines and chunk — also, the color was perfectly pink and ended up informing the colors of the whole room.
The arched niche came with the home (funny because in our last home, we created several arched niches that look just like this one). We were inspired by our trip to Jaipur, India to paint the niche yellow and to add the yellow stripe around the room.
Paint Colors:
Bottom half: Farrow & Ball Ointment Pink
Upper half: Farrow & Ball Pink Ground
Yellow Stripe and in niche: Farrow & Ball Citron
I had been collecting the little brass Moroccan mirrors for years and on a whim, decided to build a gallery with them around the niche. Putting them up was fun — I tried to create a non-symmetrical/ symmetrical situation. How did I do? 😛 You can find these mirrors on Etsy should you want to replicate the look.
Additional Sources:
Brass sun face sculpture by PAUL BELLARDO c. 1960's, purchased at Rose Bowl Flea market.
Early 20th century Ethiopian Jimma stool purchased at a flea market many moons ago 🙂
The Living Room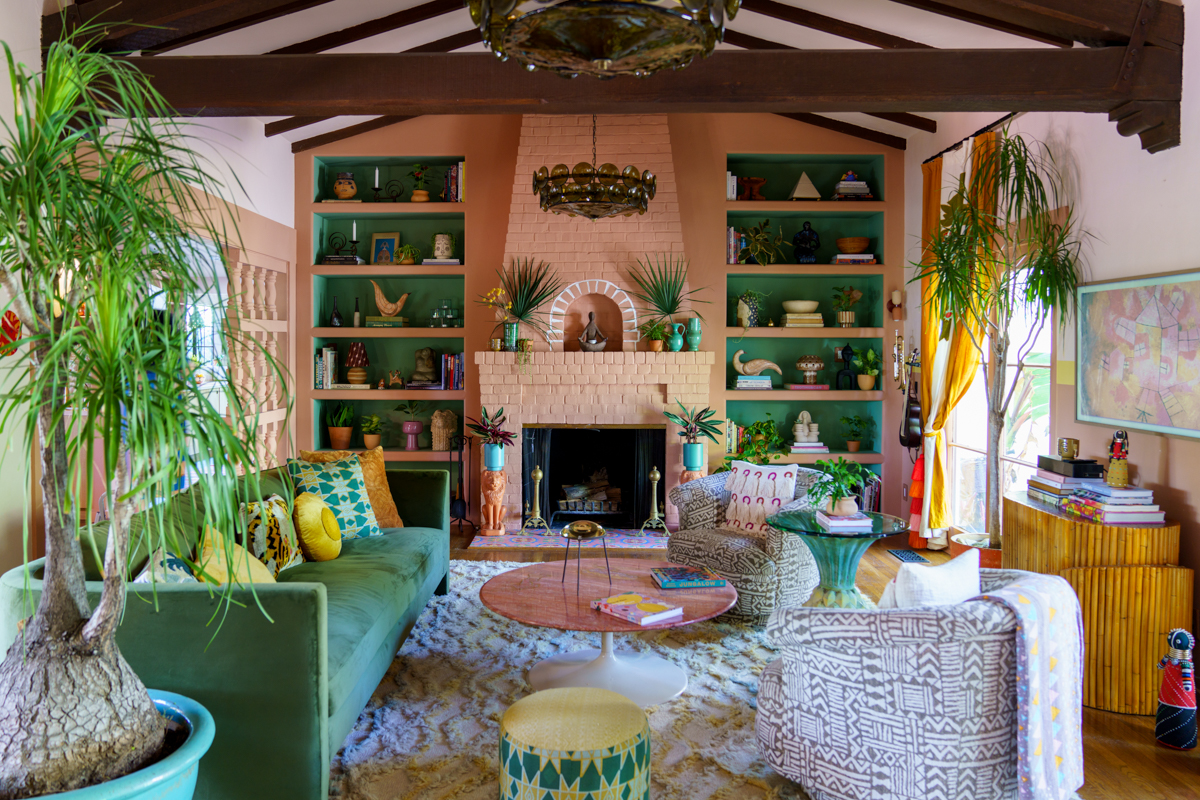 Our living room is really the heart of our home. One of my intentions for this home was to entertain a lot, so I really wanted a space where people could gather, play games, dance, sing, and curl up by the fireplace–but this room also needed to function well for me and my little family too — I wanted it to be cozy for movie nights, charades or reading a good book.  We added the bookcases that flank the fireplace, as well as the light fixtures and the paint, but the rest of the room stayed pretty much as we found it. The sofa (which is one of the most beautiful and most comfy sofas I've ever had, is the Paloma Sofa in Maestro Loden Fabric by my friends at Clad Home.
Paint Colors:
Darker Pink: Farrow & Ball Ointment Pink
Lighter Pink: Farrow & Ball Pink Ground
Yellow Stripe: Farrow & Ball Citron
Green In shelves: Farrow & Ball Breakfast Room Green
Additional Sources:
Chairs: c. 1980's swivel chairs in original fabric, purchased from @ModernHaus on IG 

Pony Tail Palm (front) sourced by Folia Collective in Highland Park

C. 1970's Tulip coffee table

in natural red marble purchased on 1st Dibs 

Tassel pillow: Justina Blakeney for Loloi Rugs / Jungalow.com

Lorenzo Chandeliers, Soho Home

Pencil Rattan Console table c. 1970's purchased on Chairish.com

Green Star Pouf and pillow custom made from Justina Blakeney

Estrella Jacquard fabric from Valdese Weavers

Yellow Round Throw Pillow – Opalhouse™ designed with Jungalow™- Target
The Lanai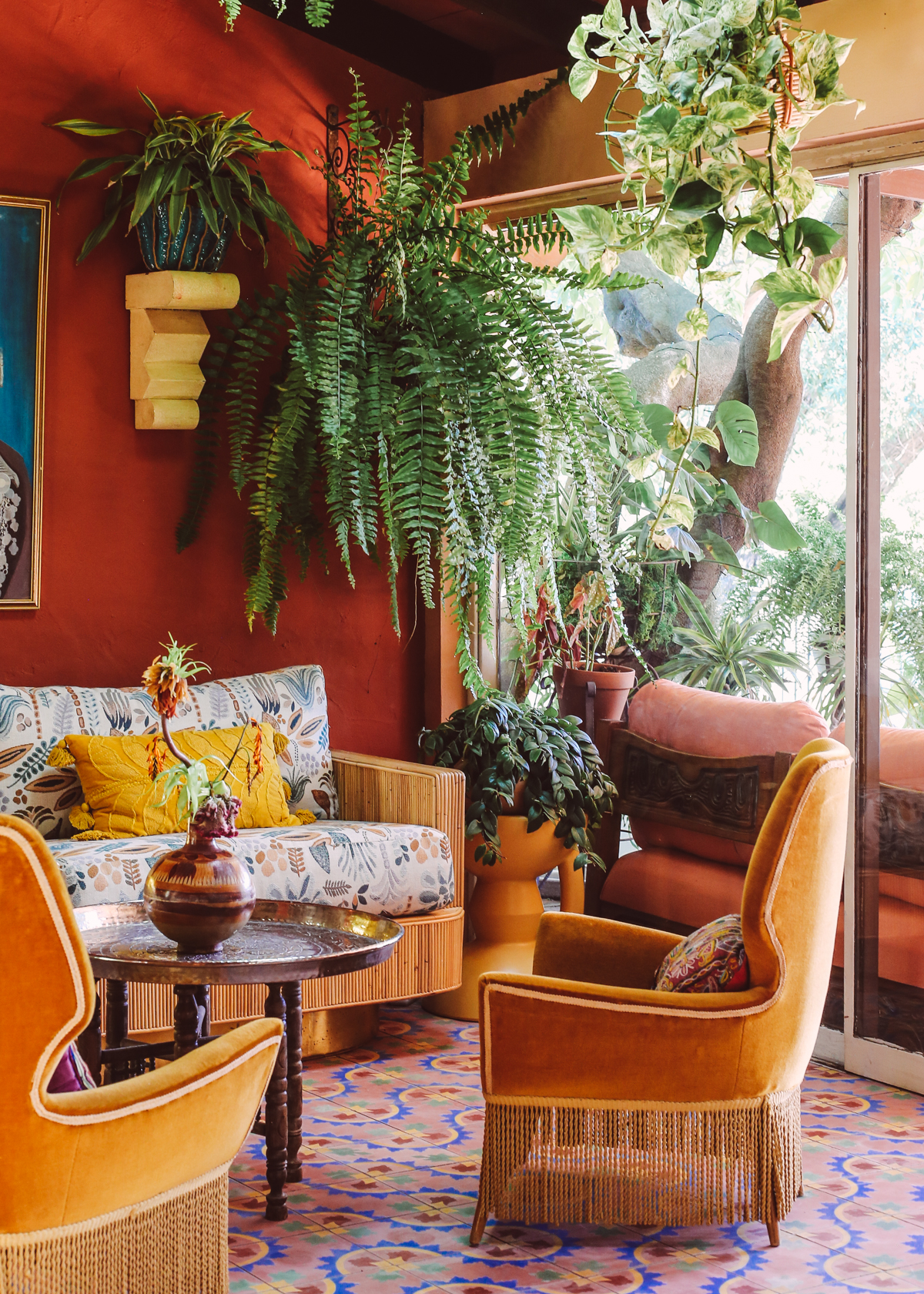 Off the living room is one of the most magical spaces in the house, the lanai — which I really wanted to make feel like an indoor garden somewhere in the Mediterranean. The thing that I'm most proud of in this space is the floor tile pattern. The tile is one that I've loved for years and years, a traditional Moroccan pattern that I got from Badia Design, an amazing Moroccan import store in North Hollywood. We took a leap of faith and had the tile installed in a non-traditional, random pattern, and it makes me happy every single time I pass over it. So, so wild.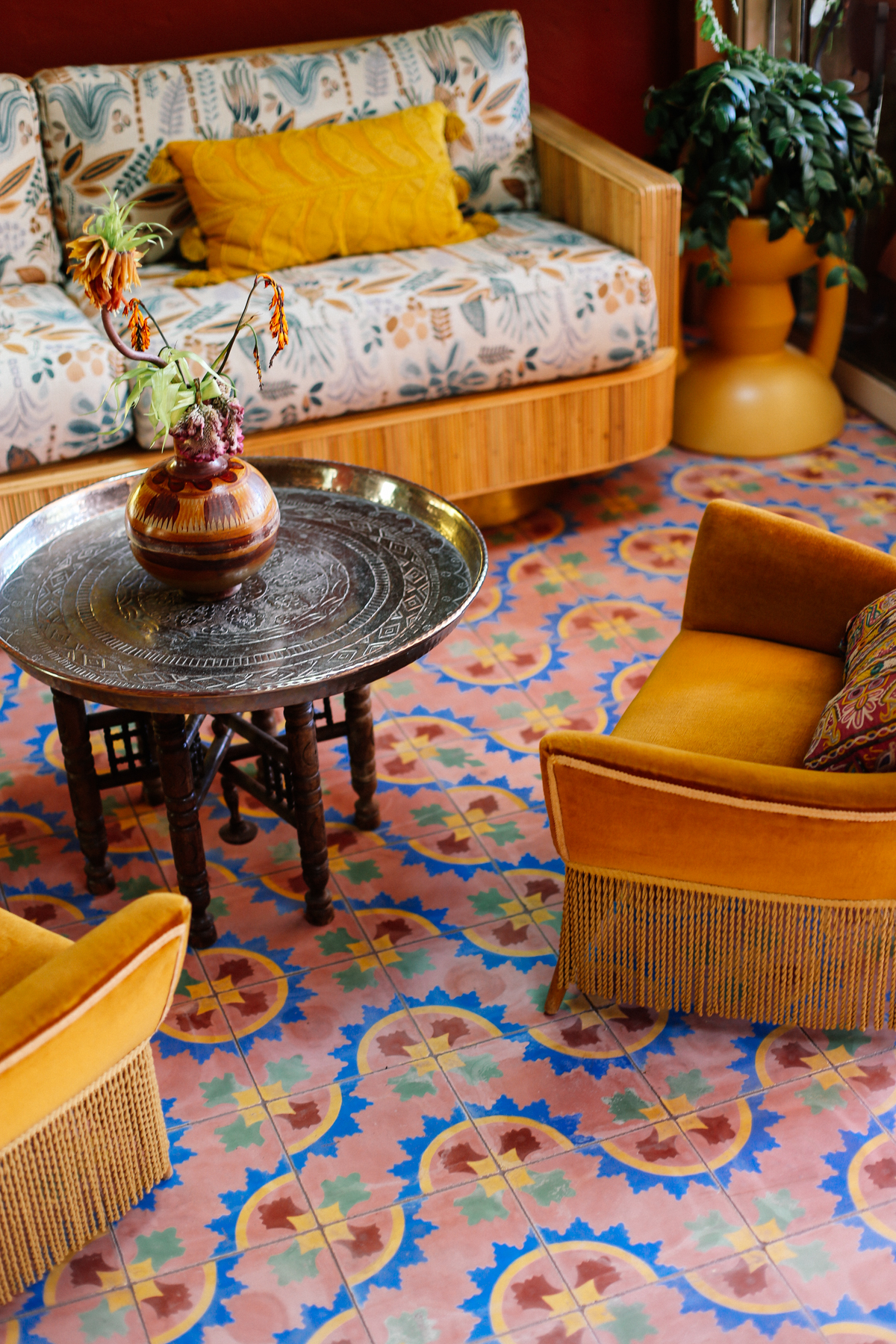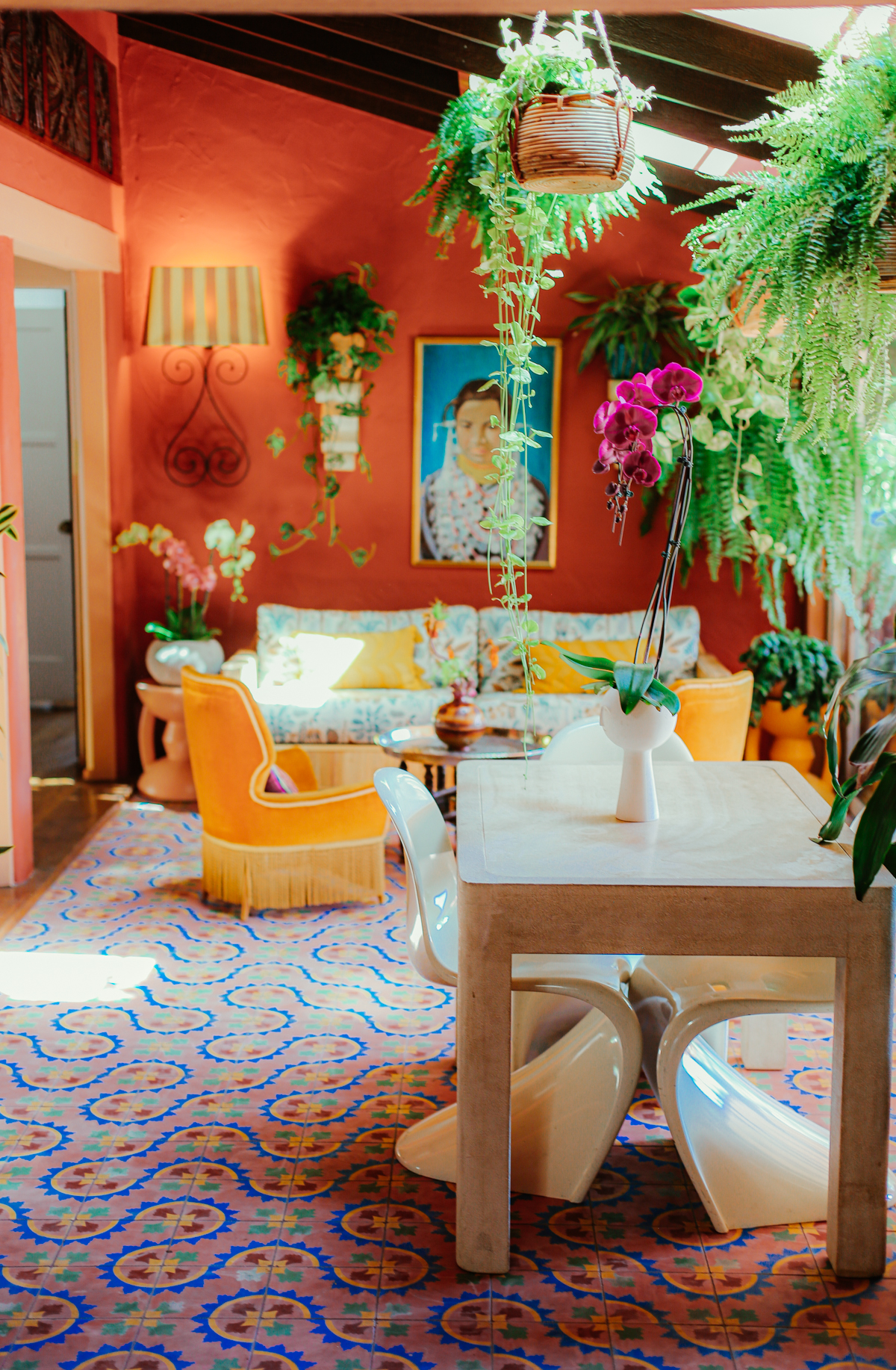 Paint Color:
Farrow & Ball Terre D'Egypte
Additional Sources
Upholstered Furniture: Mid-Century Modern Italian Fringed Velvet Armchairs Designed by Luigi Saita, 1940s. Purchased on 1st Dibs

Table: Moroccan Tray table purchased at the sale following the closing of the historic Hotel Figueroa in Downtown Los Angeles

Sofa: Moses Pencil Rattan Sofa, Justina Blakeney for Selamat (no longer in production) Sofa Cushions: Custom cushions made with Justina Blakeney Rainforest Jacquard fabric by Valdese Weavers 

Yellow Cushions on sofa: Paradise Leaf Embroidered Velvet Lumbar Throw Pillow – Opalhouse™ designed with Jungalow™- Target

Wall Corbels (?) (not sure if that's what they are) were also a vintage Rosebowl Flea market find. 
The Kitchen
And into our kitchen!! After living for almost an entire year with a makeshift kitchen set up in the lanai — doing dishes in an outdoor sink and "cooking" with countertop appliances– I do not take this kitchen for granted! I'm obsessed! And I'm enjoying cooking like never before.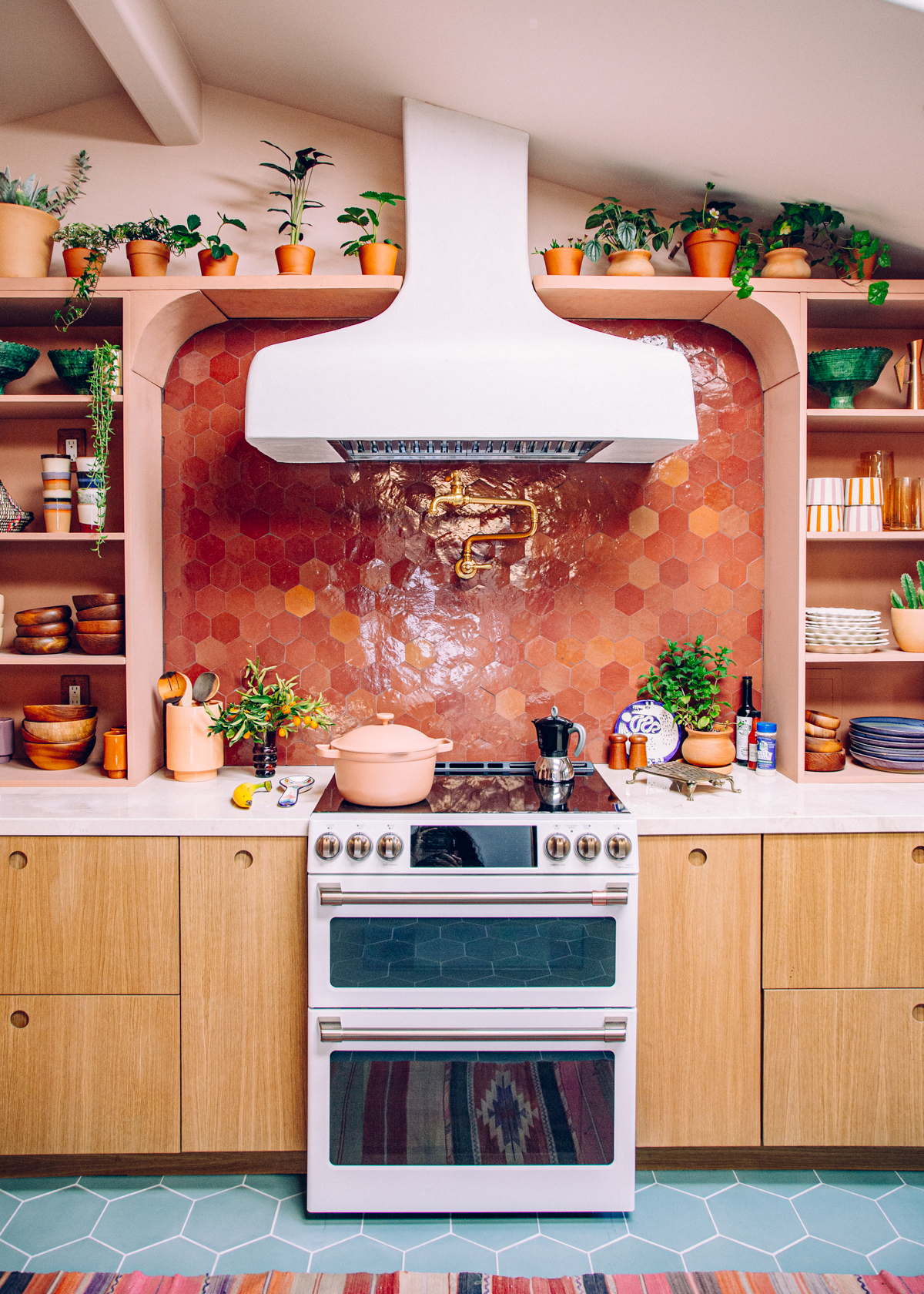 The focal point of our kitchen has to be this area with the GE Cafe induction range. We got the induction range because eventually, we hope to have the whole home running on solar without the need for gas. (Also–side note — there is an ordinance banning gas stoves from all new residential and commercial constructions to help reduce harmful greenhouse gases by 2023 in California, so we figured we might as well get used to cooking on an induction stovetop.) And I have to say, so far I LOVE it. Water boils so quickly on this stove, I can steam veggies or boil water for pasta in just a few minutes! Also, the stovetop itself doesn't heat up when we're cooking–and since Ida is just starting to show interest in cooking, it makes me feel more at ease letting her cook scrambled eggs and things knowing the stovetop won't burn her li'l fingers.
The double oven is a vibe. Last week I roasted brussel sprouts and asparagus up top while making salmon down below. Into it. I chose the white finish for the range so that it would recall the white custom range hood above it (more details on that below) and we went with the Brushed Bronze finish on the hardware and we have a whole eclectic, mixed-metal thing going on in the kitchen that I love. 
I designed the custom range hood and had it built by our awesome contractors, New Generation Home Improvements. It's made of cement and we used the GE range hood insert for the functionality. The tile on the backsplash is Terra Rosa hex Zellige from Zia Tile . I love the color variation in the Moroccan tile so much. We tried to keep grout lines minimal and used a darker grout that we wanted to blend in to the tiles so the attention would stay with the tile, not the grout.
We also installed a Kohler pot-filler from the Artifacts collection. This is the first time I've ever had a pot filler. While at first I really just wanted it for the looks, I've been surprised with how much I've used it — especially since our sink is kinda from far from the stove.  
The kitchen cabinets are from Reform CPH, from their Basis collection. Reform CPH is a Danish company that started out doing fronts for Ikea cabinets. But now, they create fully modular kitchens, and my goodness are they beautiful. We're lucky that Reform CPH has a showroom here in Los Angeles, so we got a chance to go check out all the styles and materials before landing on the Basis collection. I love the natural wood — it gives a warm earthiness to the kitchen, but the clean lines are a nice juxtaposition to the elements in the kitchen that are more handmade and a bit wonkier, like the range hood and the tile. Also there are a lot of really great little design elements with hidden functionality, like pull-out organizers, cutlery trays and waste sorting solutions built into the cabinetry.
We used a Crema Marfil Marble for the counters. And while I love, love, love the color and the look, everyone warned me able marble countertops and I didn't listen. It does stain VERY easily and there are certain people in my household who are not thrilled about that. SO I think if I could go back in time, that's one thing I would do differently. As much as I love the cream color, I think I'd go back to Silestone. 
Sources:
Backsplash Tile, Terra Rosa hex Zellige from Zia Tile

Kitchen Cabinets: Reform CPH, Basis collection

Rug: Vintage Turkish Kilim runner c. 1980's

Range Hood: Custom cement range hood designed by me, built by New Generation Home Improvements

Pot Filler: Kohler, Artifacts collection

Pot: Perfect Pot by Our Place 

Countertop: Crema Marfil Marble 

GE Cafe induction range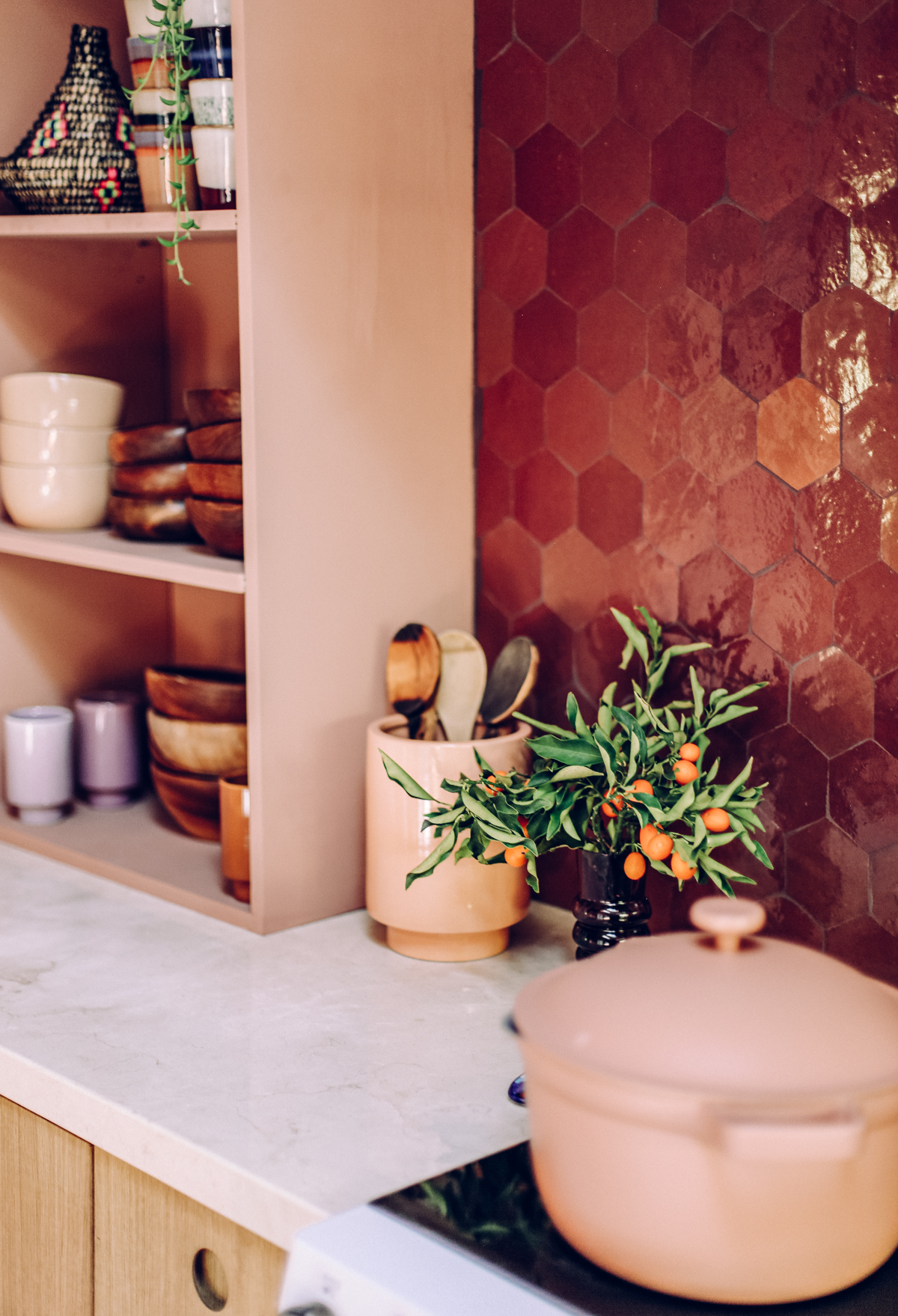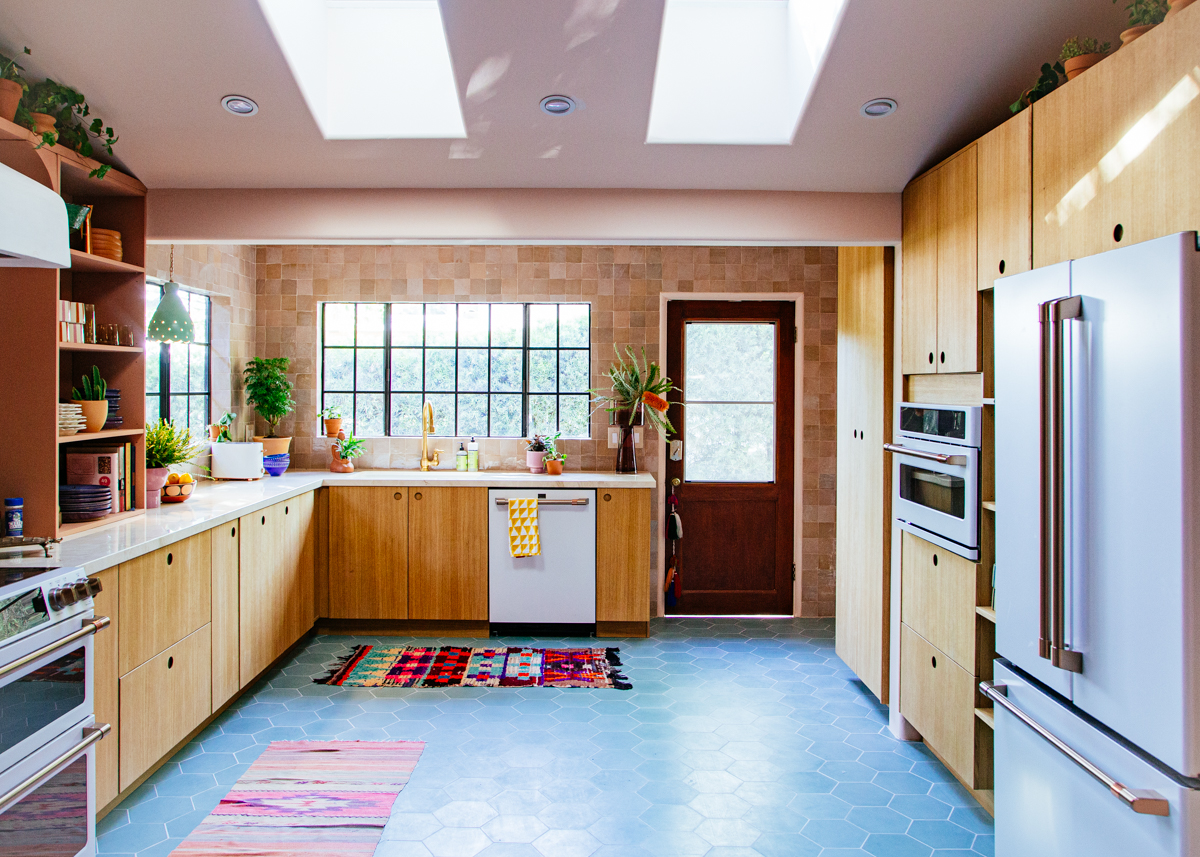 I knew I wanted this room to harness a ton of natural light, so we had two Velux Skylights installed a WOW!! Did they make a difference!! I love that I can look up through them and see the Italian Cypress tree that's in our front yard. They open up the space immensely and add fresh air to this space too. Also, these skylights are smart and close automatically if it starts to rain — I mean…pretty amazing technology. They skylights also make it easy to keep lots of happy plants in here – which y'all know is important to me!
The floor tile is cement hex tile in sage from Zia Tile.
Additional Sources:
Cabinets, Reform CPH Basis Collection

GE Cafe Dishwasher in white with Brushed Bronze hardware 

Wall Tile: Glazed Earth Zellige by Zia Tile

KOHLER Artifacts Sink Faucet

Almada Pendant lamp, Jungalow / Jungalow.com

Rug, Vintage Moroccan Rug purchased on Etsy.com (similar)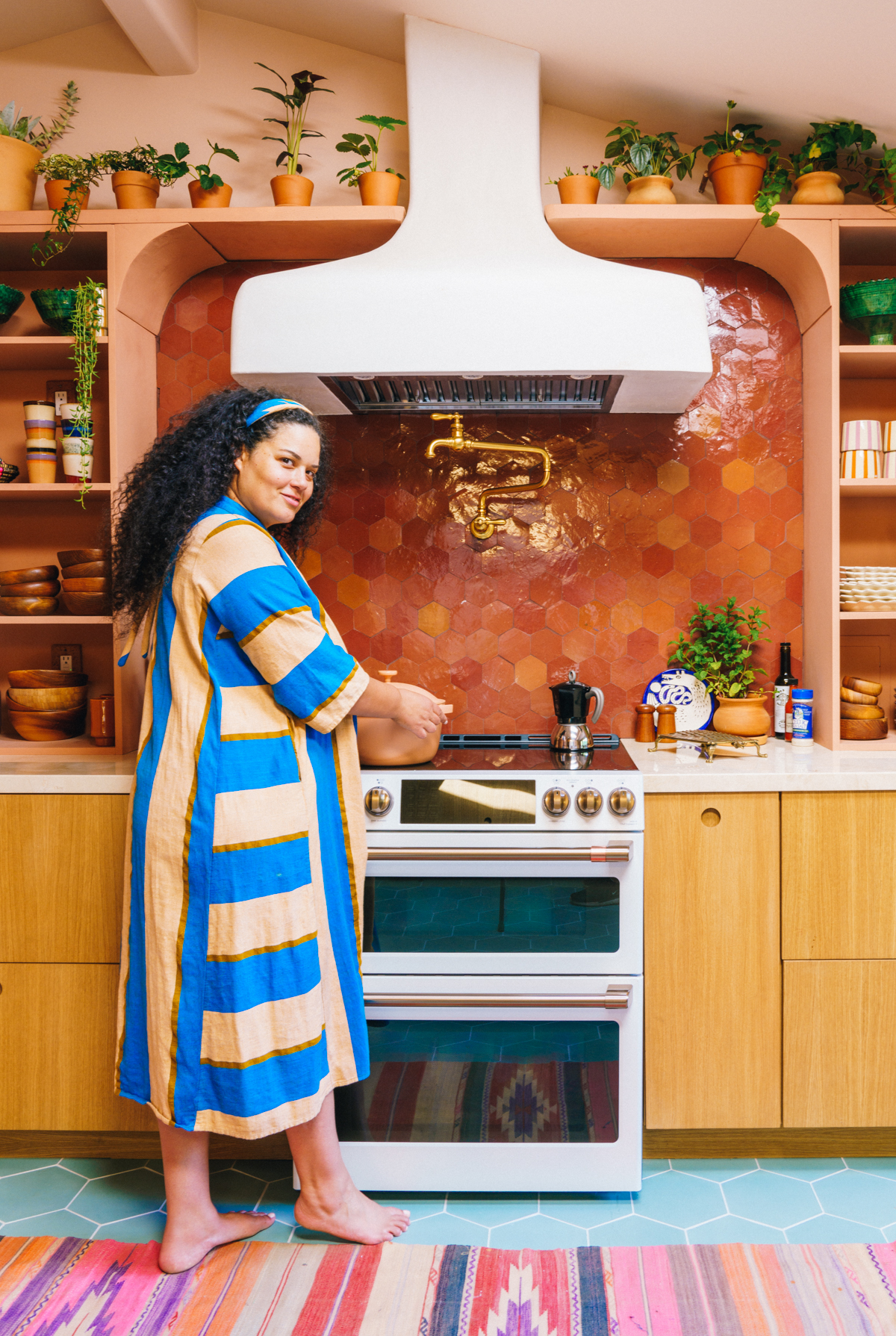 Hi!
On this side of the kitchen, we have our built-in microwave/convection oven (love that it has both functions!), our GE Cafe refrigerator and lots of space for food storage in the Reform CPH cabinets.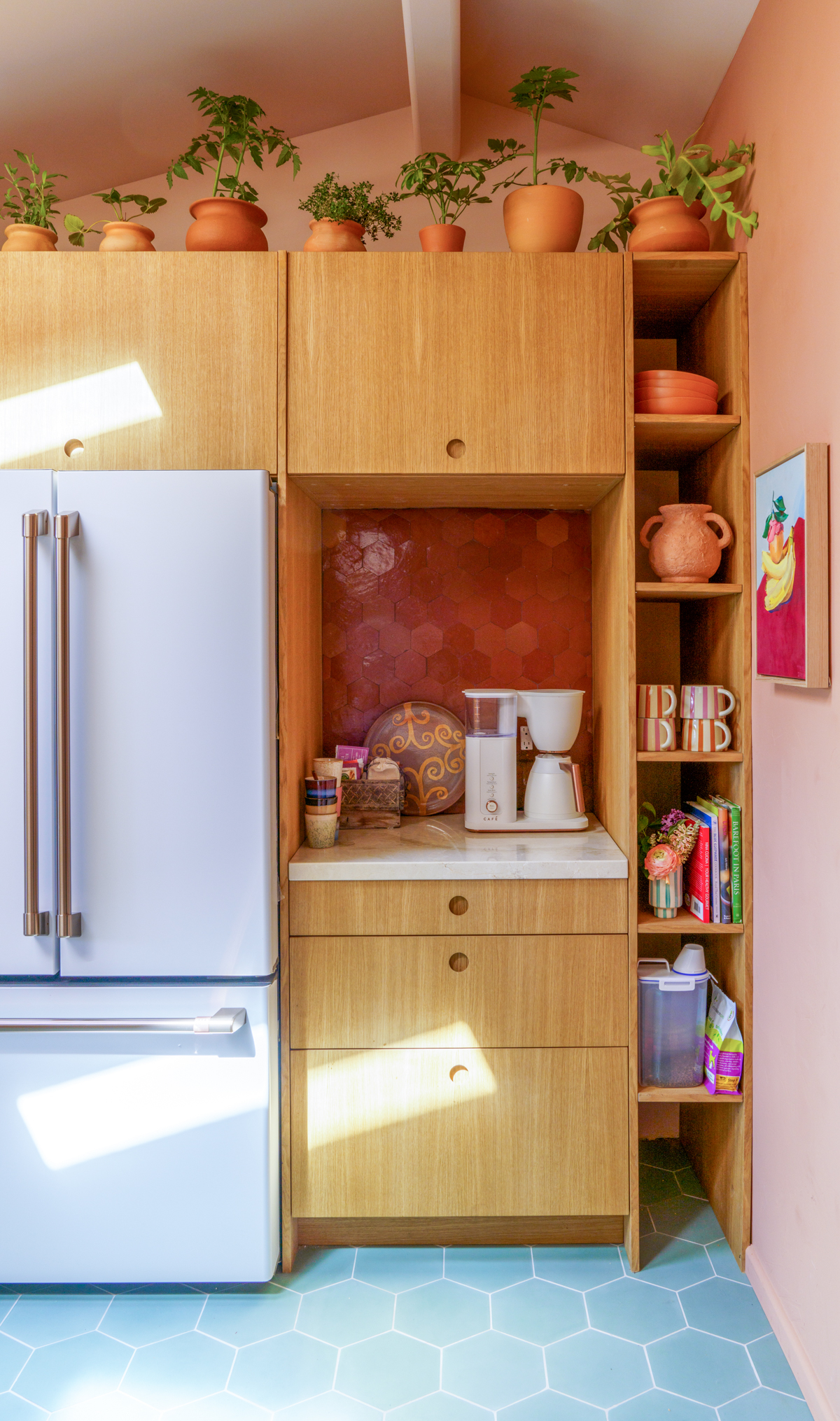 Over here we created a little coffee/tea bar that I really love. We used the same backsplash tile in the little alcove to tie it back to the wall behind the range. It has been my dream to have a dedicated spot for coffee and tea since I lived in Switzerland when I was a teenager, so this area brings me a lot of joy. I also really love our countertop coffee maker from GE Cafe. It's so fast and easy and the coffee comes out perfect every time. We used extra wood from the Reform CPH cabinets on this side to create the open shelving. The cabinets are totally modular and the Reform CPH team was great at helping us to create the perfect configuration for our needs and wants. I love the combination of open and hidden storage that we have here.
Dining Room
And that brings us to our dining room. In this room, we were able to restore the original hardwood floors, and added that built-in bookshelf. I think my favorite finds for this room are the "chicken chairs" which were a vintage score from Chairish.com. I also had fun getting all DIY and sewing the window treatments using my Huntington Linen Print fabric by Valdese Weavers. The beautiful Song of India in the corner was sourced from my friends at Folia Collective. 
Additional Sources:
Paint Color:

Farrow & Ball Ointment Pink (Archive collection)

c.1980's Italian travertine dining table. Purchased on Chairish.com

C. 1970's Rattan and chrome dining chairs upholstered in "chicken" fabric – purchased on Chairish.com

Senufo wooden Stool – purchased from Rose Bowl Flea market 

Window Coverings: DIY'd from

Justina Blakeney Huntington Linen Print fabric by Valdese Weavers / Fabricut

Glass Pendant c. 1960's, vintage purchased at Dekor Living Los Angeles

Brass floor lamp c. 1970's, vintage purchased at Uncharted Antiques, Pasadena

Rug: Malik Geometric Area Rug in Dove by Justina Blakeney for Loloi Rugs
Powder Room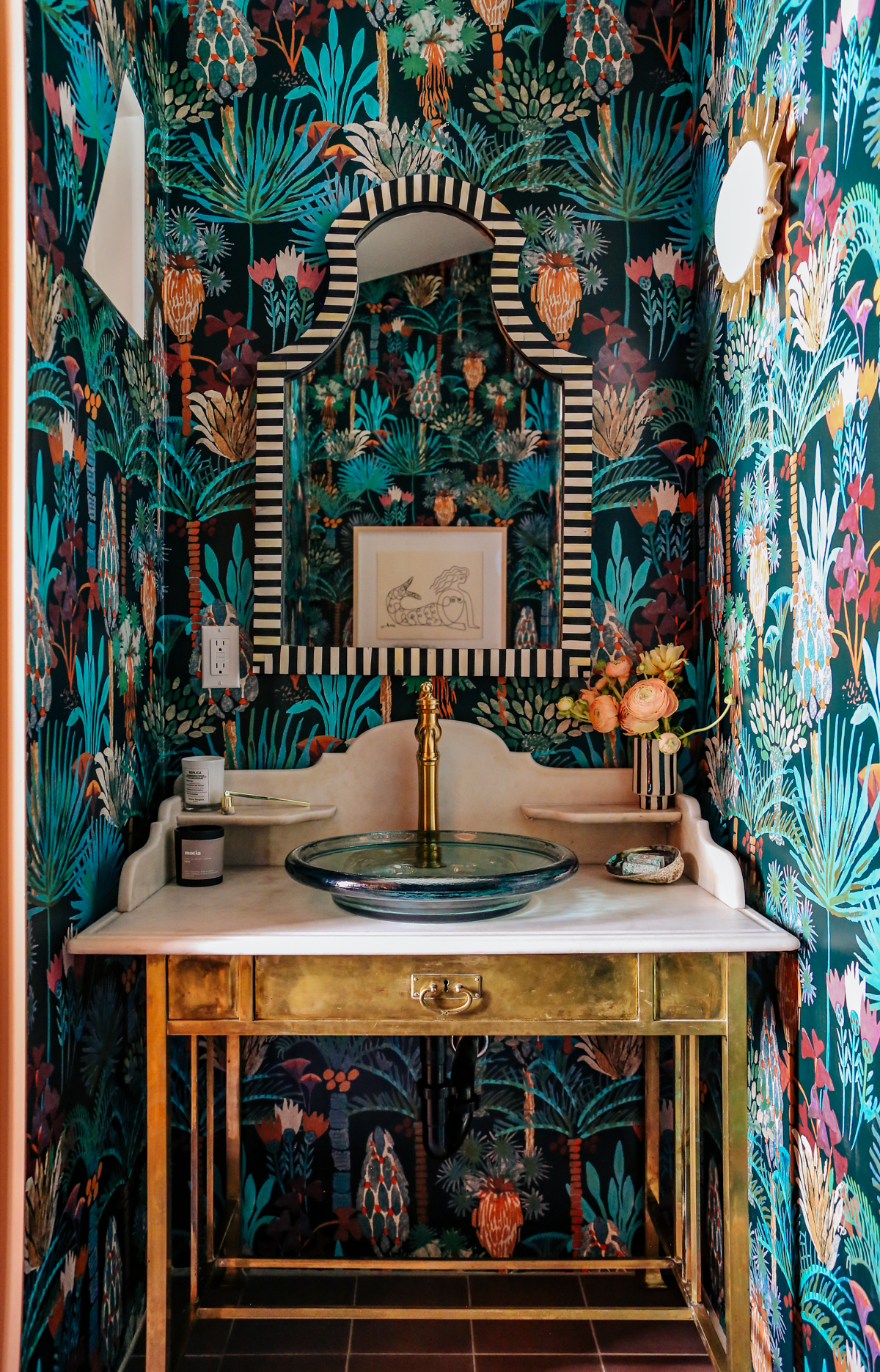 We added a powder room where there wasn't one previously. In our last home, to get to a restroom you had to pass through a bedroom. The original configuration of this home had the same thing going on, so I really wanted to add a powder room for guests to use without going through our bedroom.  I found this vintage dry sink before we even had the floorplans done for the remodel, so if you're wondering how it fits so precisely in here, we literally built the room to fit the dry sink! Ha! Our contractors cut a hole in the marble for the sink, and we installed the stunning Spun Glass Vessel Bathroom Sink by Kohler in Translucent Dew and paired it with the Artifacts Faucet, also from Kohler. We then installed our Phoenix wallpaper in Jungle to add a bit of luxe jungalicioussness to this space. The wallpaper is a whole vibe all on its own so I decided to keep the additional accessories graphic and monochromatic. I went with an inlay mirror I found on Etsy.
The sun wall sconce was another vintage find. The striped cup/vase is part of our Kaya collection at Jungalow.
Primary Bedroom
And that takes us into our bedroom…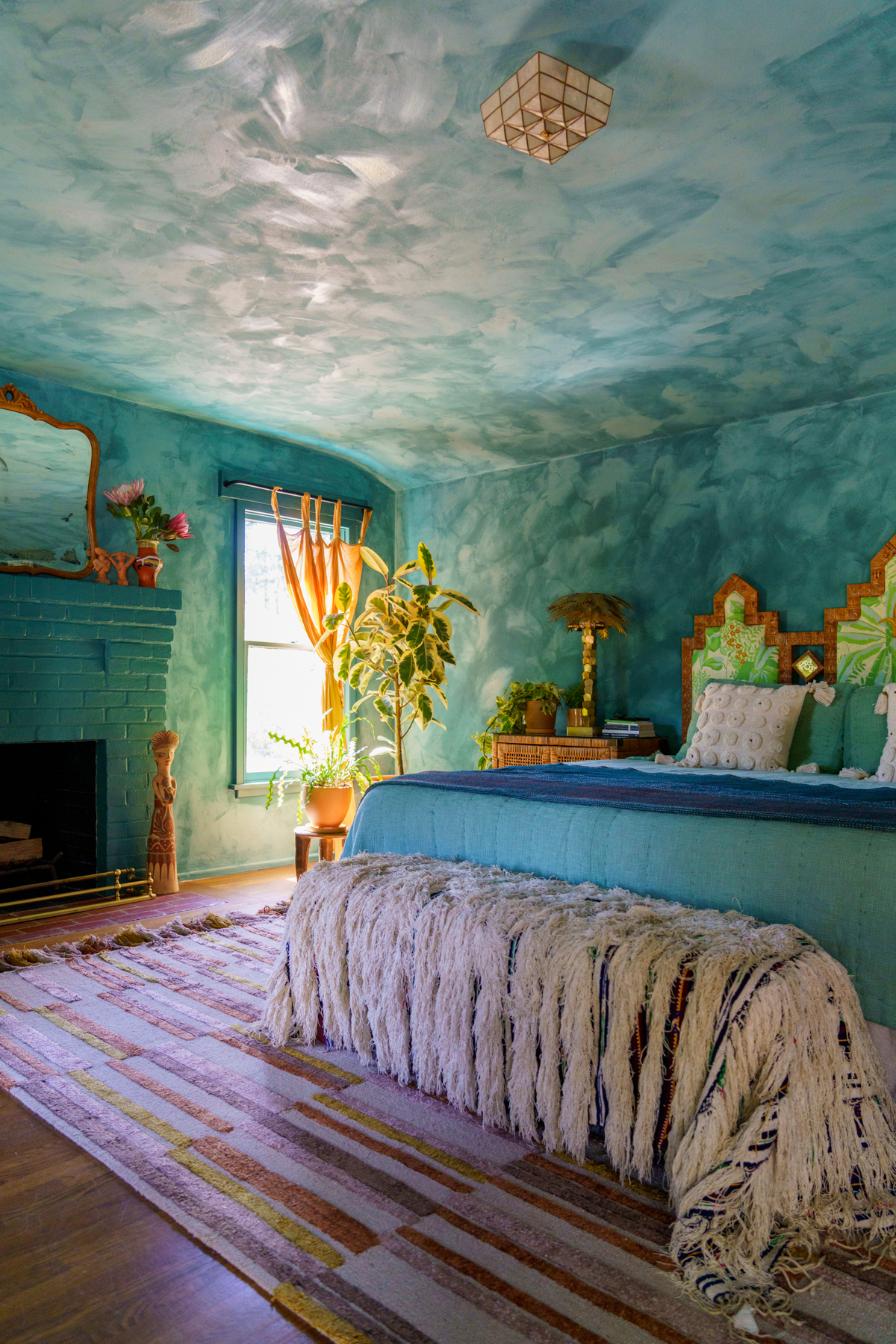 This may be my favorite room in the house (OK I love all the rooms…). But really even before we painted or did anything at all this room was really special. I love the gentle slope in the ceiling, and the verdant views from the windows — and the fireplace (!!!)
The rug is from my Jamila Collection with Loloi Rugs, the green quilt is our Sol quilt in sage from Jungalow.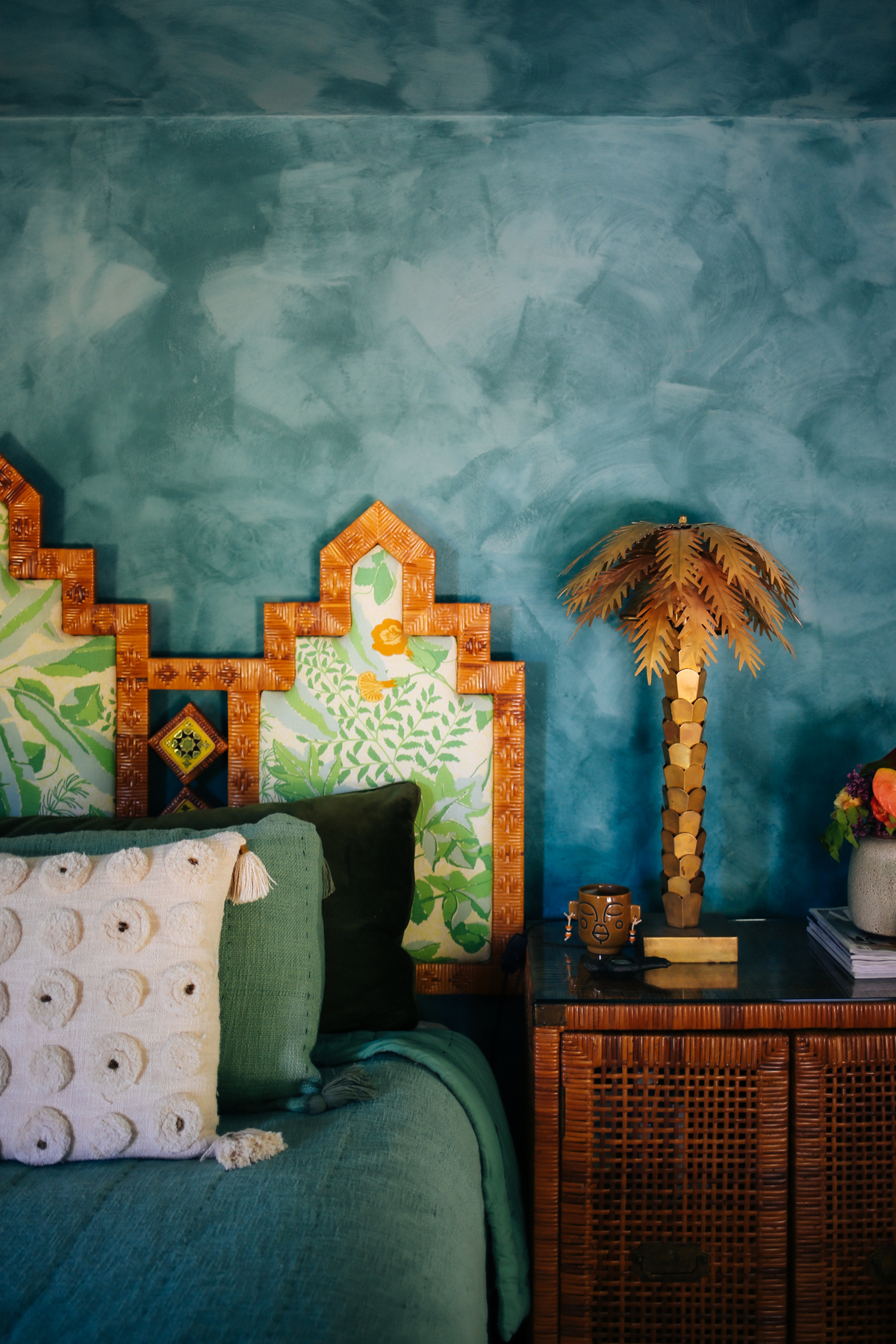 We painted this room in a teal limewash from Sydney Harbor Paint Co. Our painter put the paint on the walls with a big brush, instead of a roller to get all of this water-like texture. At first, I was on the fence about painting the ceiling or leaving it white. Ultimately I'm happy with the decision to paint the whole room because it just sort of envelops you and really creates a whole feeling that's so weird and cool and special.  I really, really love waking up in here.
The headboard and nightstands are vintage. The pillow is Justina X Loloi. The palm tree lamps are from HK Living.
Primary Bathroom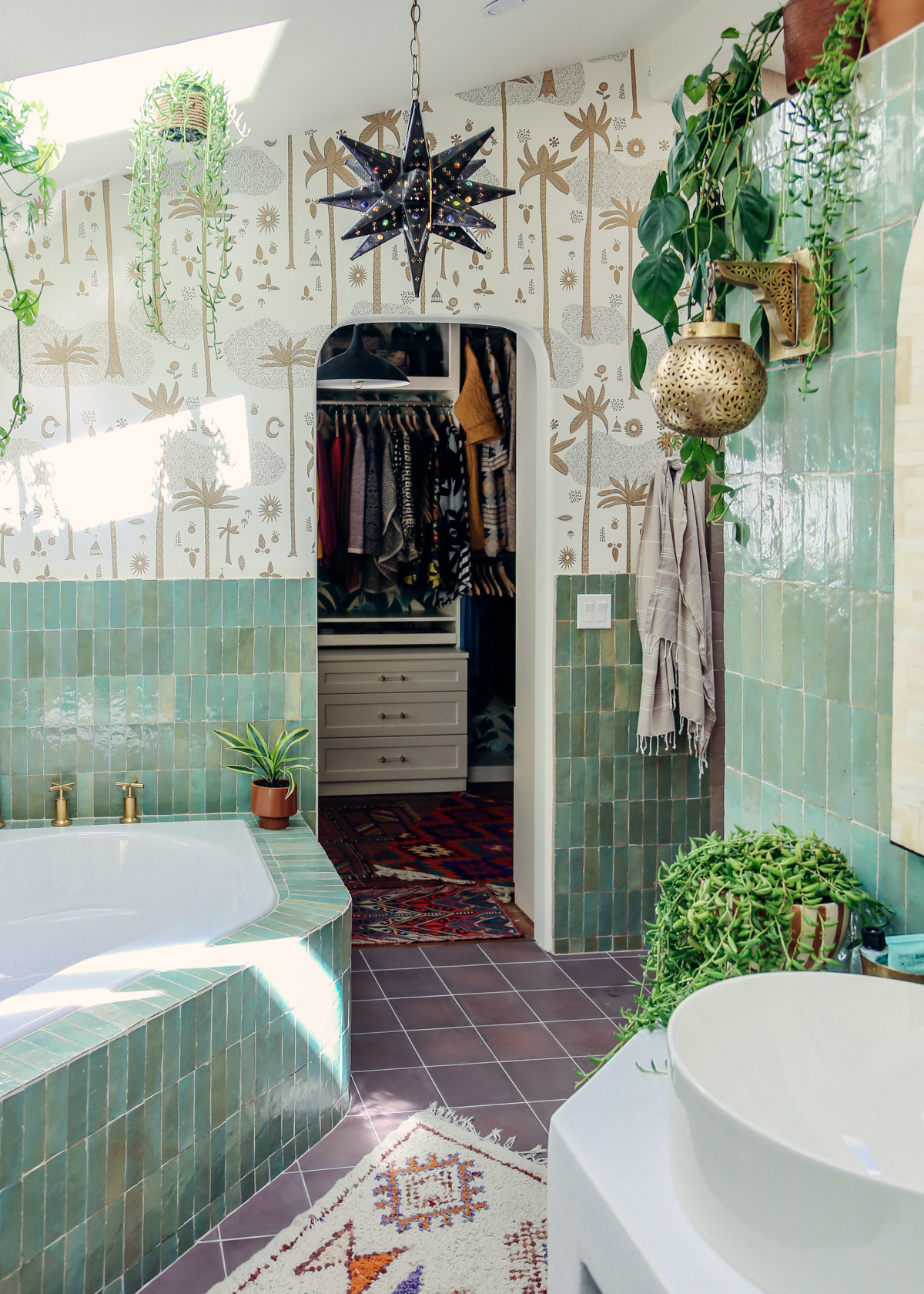 And that brings us to our primary bathroom. Ooof I love this space so much. I think we tried out about 100 configurations for this room before landing on this layout. I was trying to fit a lot in!  We combined two small bathrooms to create this large bathroom and the powder room. We also got rid of the drop ceiling in this area of the house, and though it took forever to get the permits, it was well worth it. It makes the sapce feel twice as large.
In this space, I really wanted a double bathtub, a stand-alone shower, and a private stall for the toilet. The thing that I had to give up was the double vanity — because everything was simply not fitting. I'm happy with our choices though. This space is literally my at-home spa and being in here is fun, relaxing and invigorating.
Sources:
Floor Tile: Zia Tile, Cement tile in Aubergine 

Wall Tile: Zia Tile, Zellige tile in Tidepool

Wallpaper: Cosmic Desert Wallpaper, Justina Blakeney/ Jungalow.com

Star Lamp: Vintage Mexican Star lamp with marbles, found on eBay.com

Wall Lamp: Badia Design

Rug / Purchased in Morocco

Double Bathtub by Kohler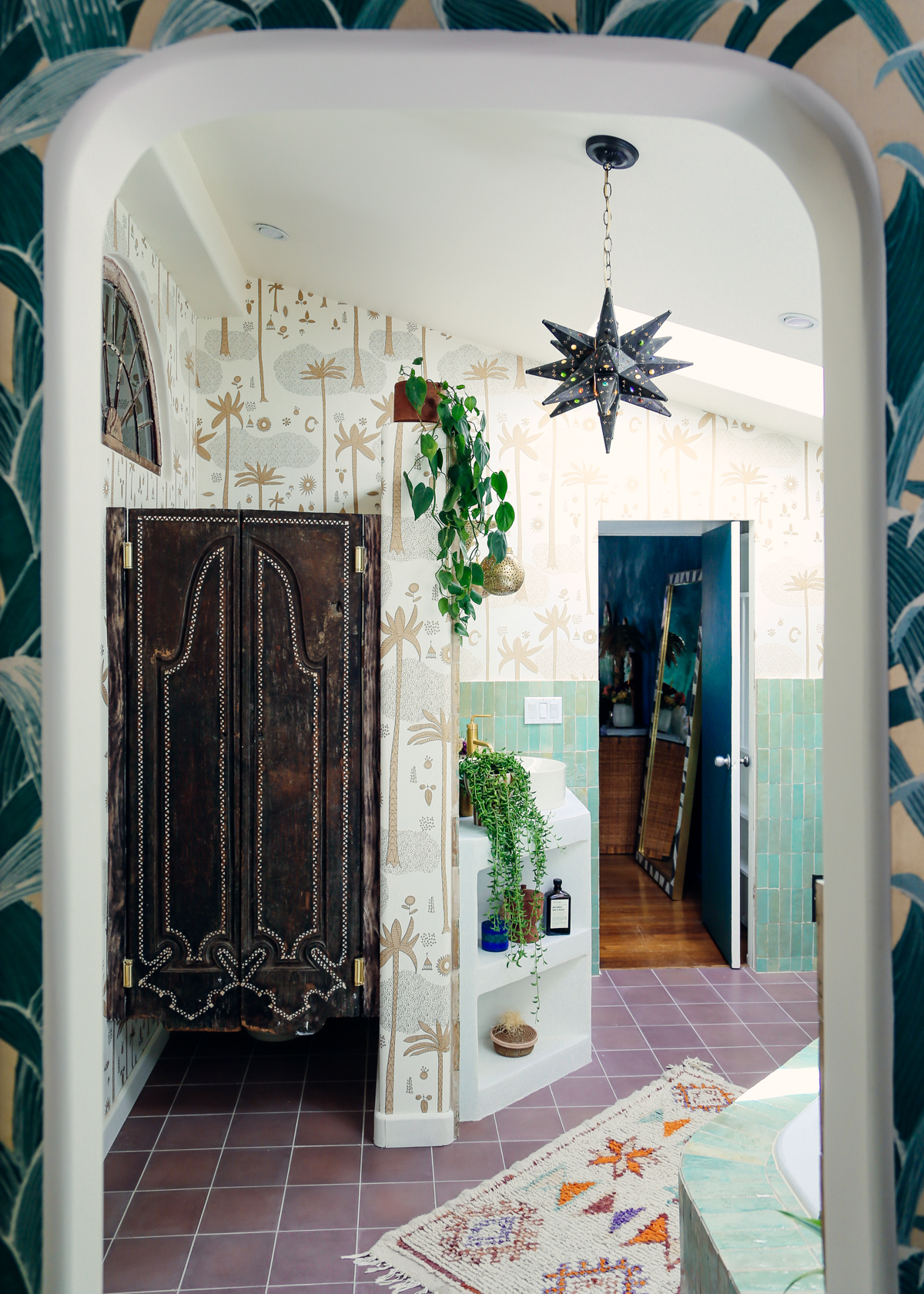 From this vantage point, you can see our little toilet stall. I really do love having a little extra layer of privacy in here are the vintage Indian saloon doors are just so beautiful.
Doors:

Andrianna Shamaris Teak Wood Doors with Shell Inlay

Window: Pasadena Architectural Salvage

Skylight: Velux Skylight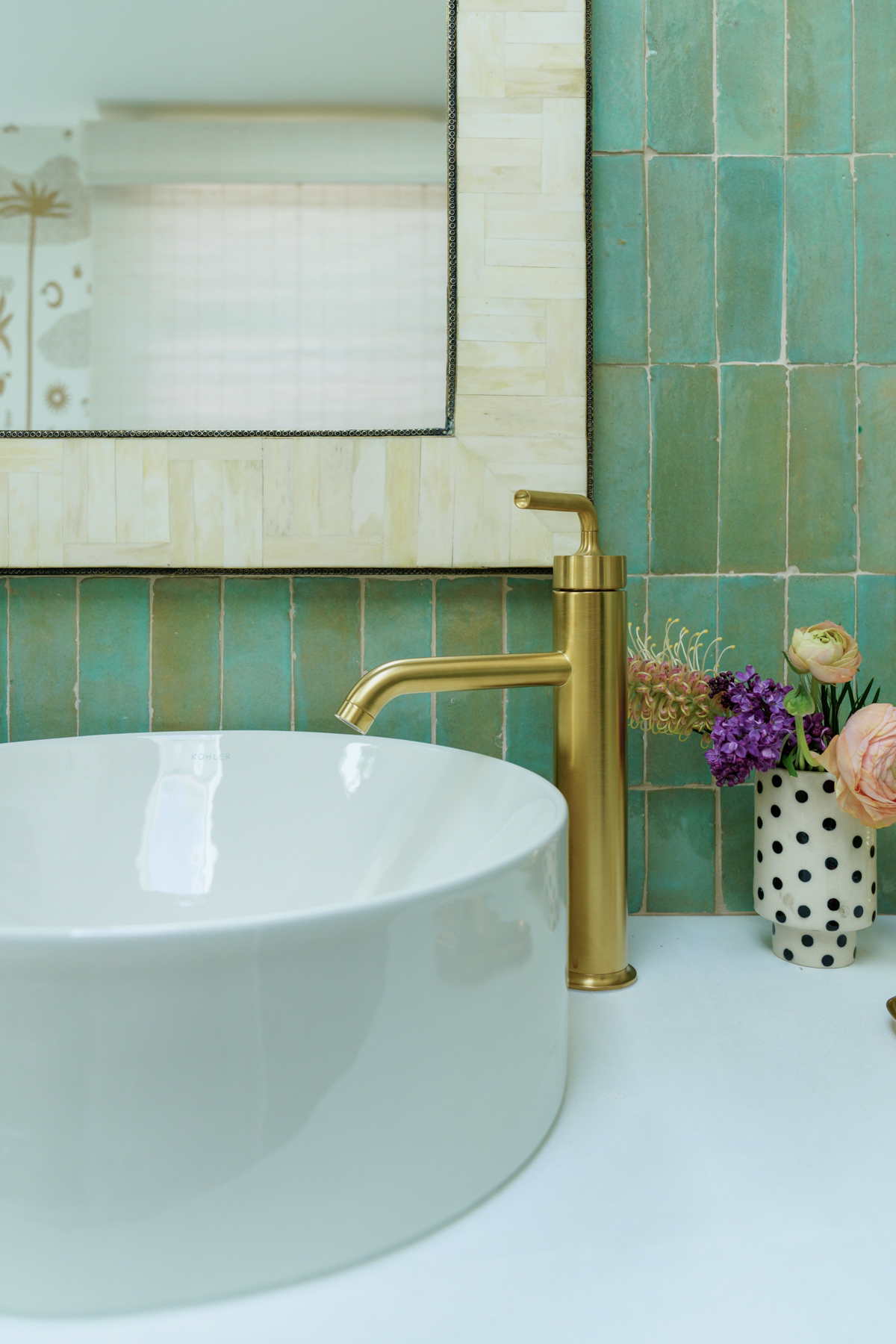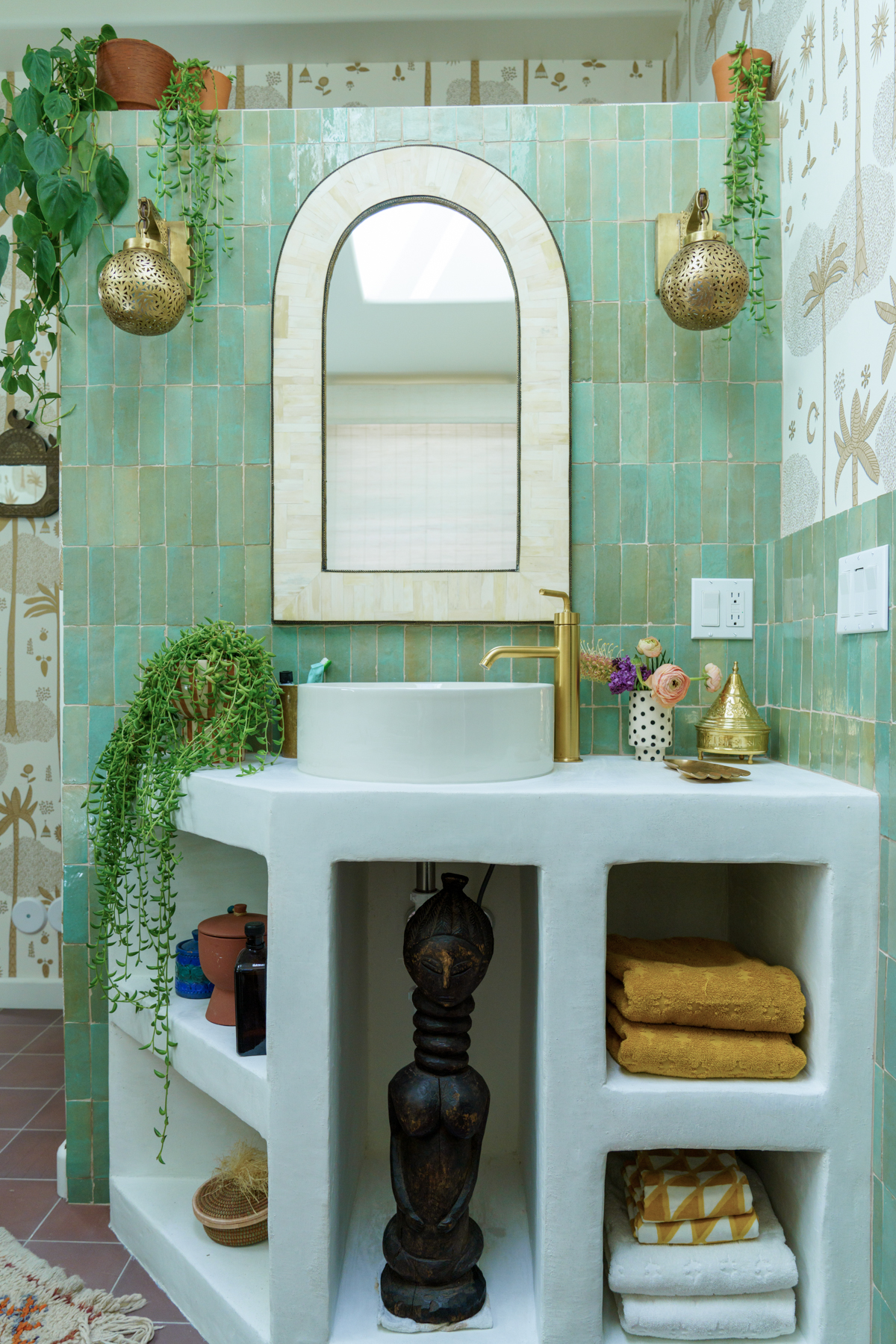 We had our vanity custom-made from cement, like the range hood in the kitchen. I love the plaster look. It reminds me of my time in Mexico and Morocco and feels so good to the touch. We made it this oddball shape so that there would be enough room to pass through here because it's pretty close to the double tub. The mirror and wall lamps are from Badia Design, and the sink and faucet are from Kohler.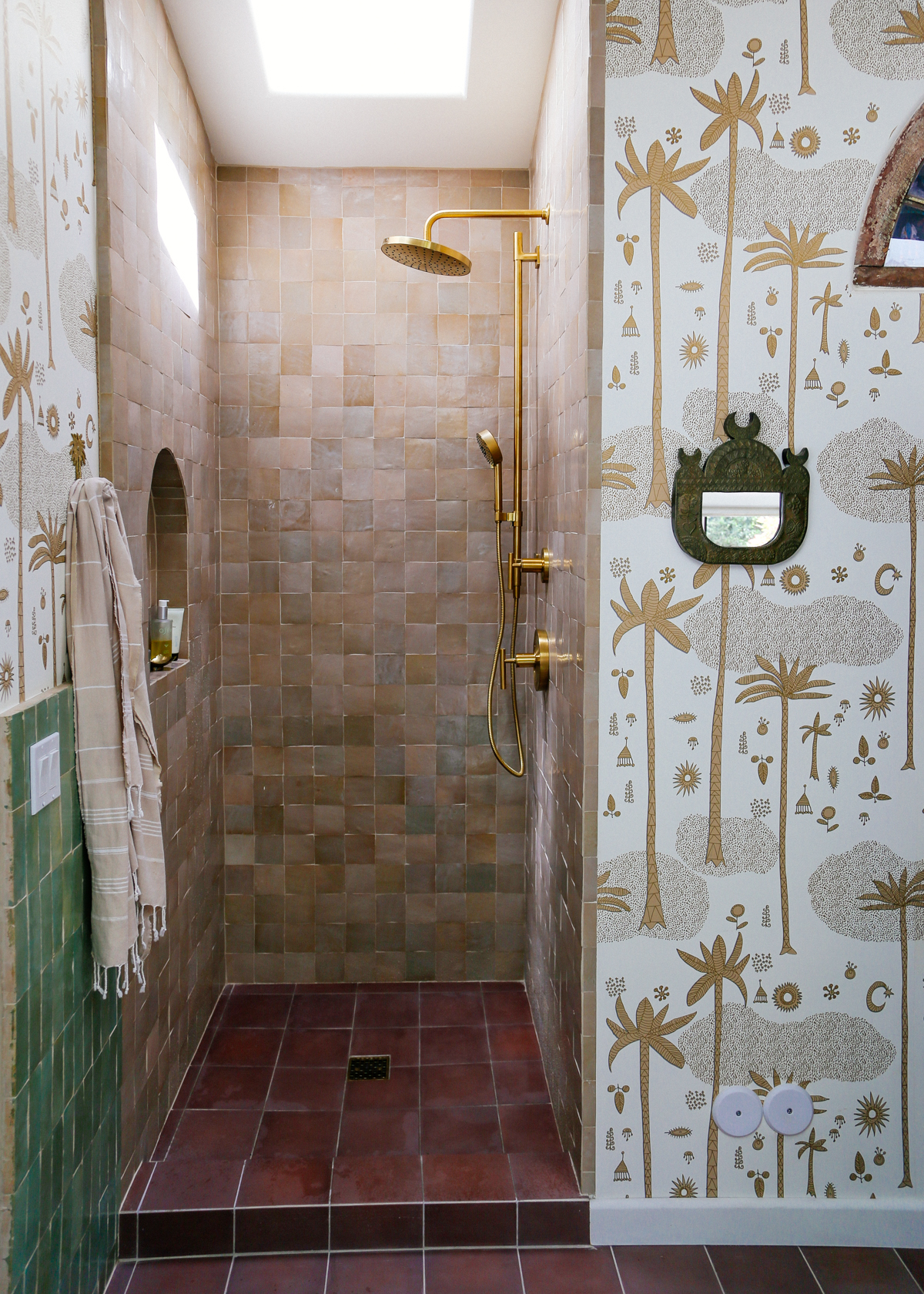 Yes, there is a skylight in the shower. In our previous home we had an outdoor shower and we love the feel, so we thought that adding a Velux skylight in the shower would give us a similar feeling and it worked. I love looking up at the sky when I'm showering — and it also helps with ventilation.
The brass finish on the Kohler shower fixtures look so, so pretty with the shimmering gold in the Cosmic Desert wallpaper, and I really love how it feels luxe but kinda earthy at the same time.
Additional Sources:
Awaken Rainhead Shower from Kohler in Vibrant Brushed Moderne Brass
Awaken Handheld from Kohler

Shower tile: Zia Tile, Zellige tile in Glazed Earth

Floor Tile: Zia Tile, Cement tile in Aubergine

Wall Tile: Zia Tile, Zellige tile in Tidepool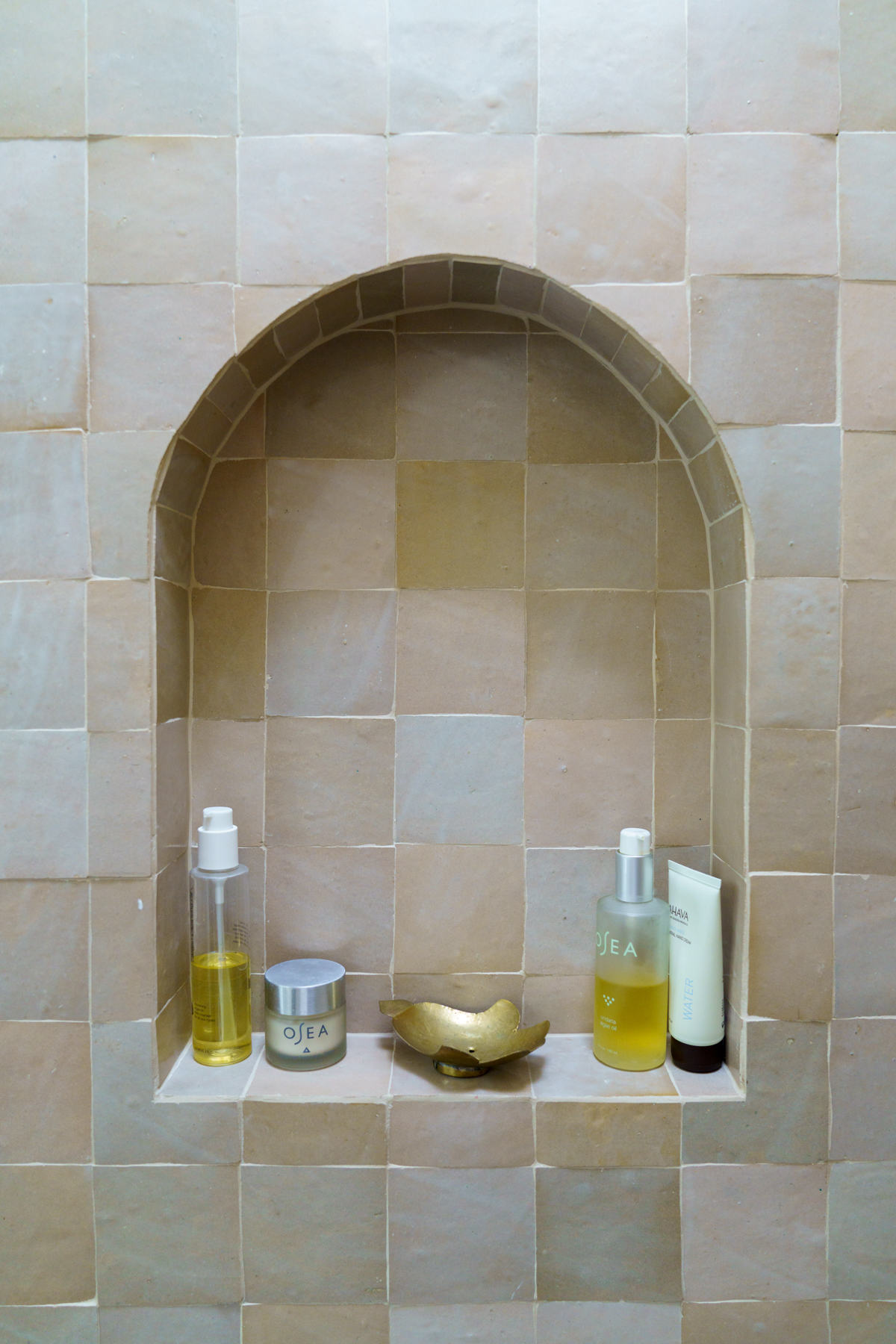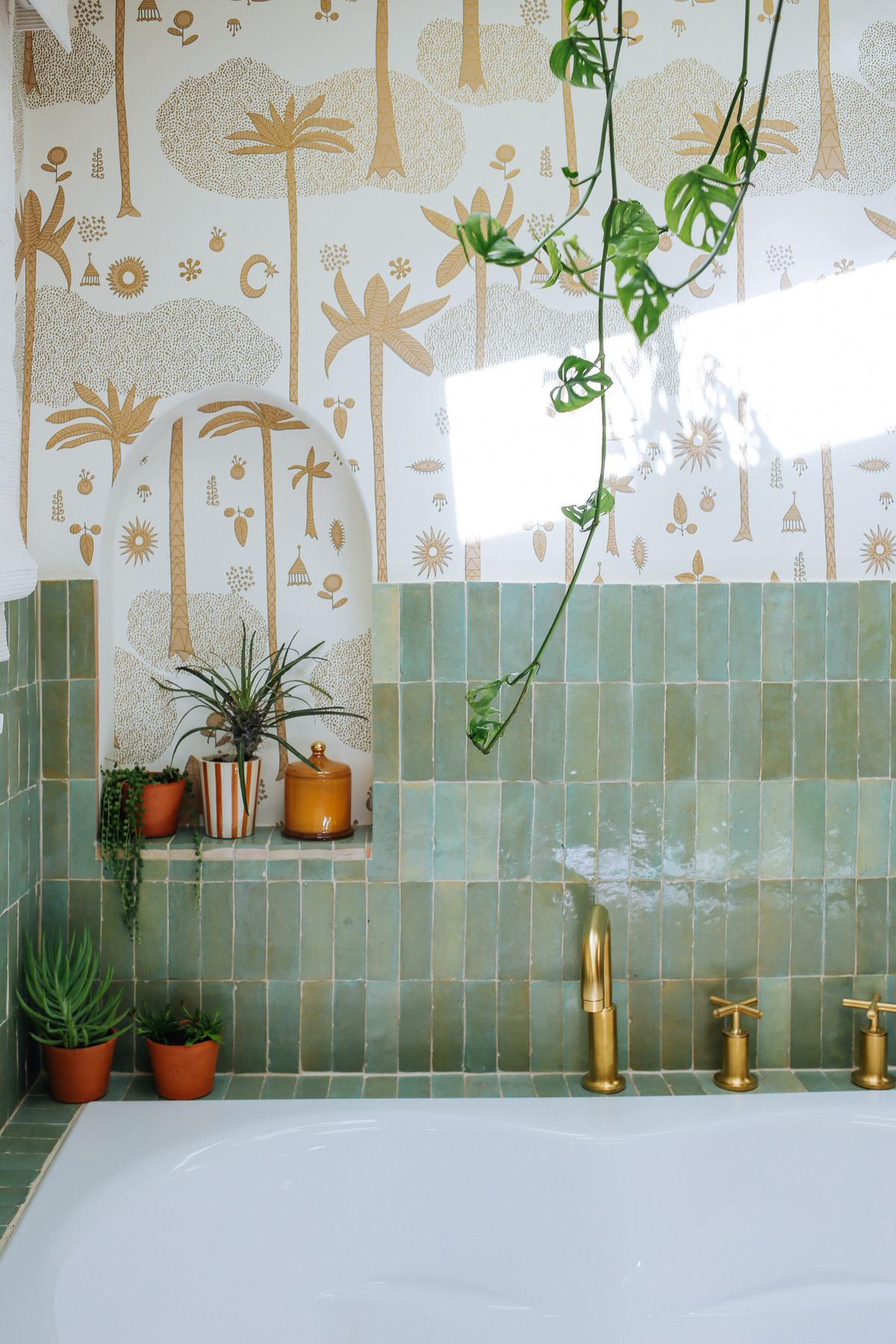 Additional Sources:
Purist Faucet, Kohler

Bath Tub: Kohler Tercet Collection Corner Soaking Bath Tub 

Candle, Opalhouse™ designed with Jungalow™- Target
Closet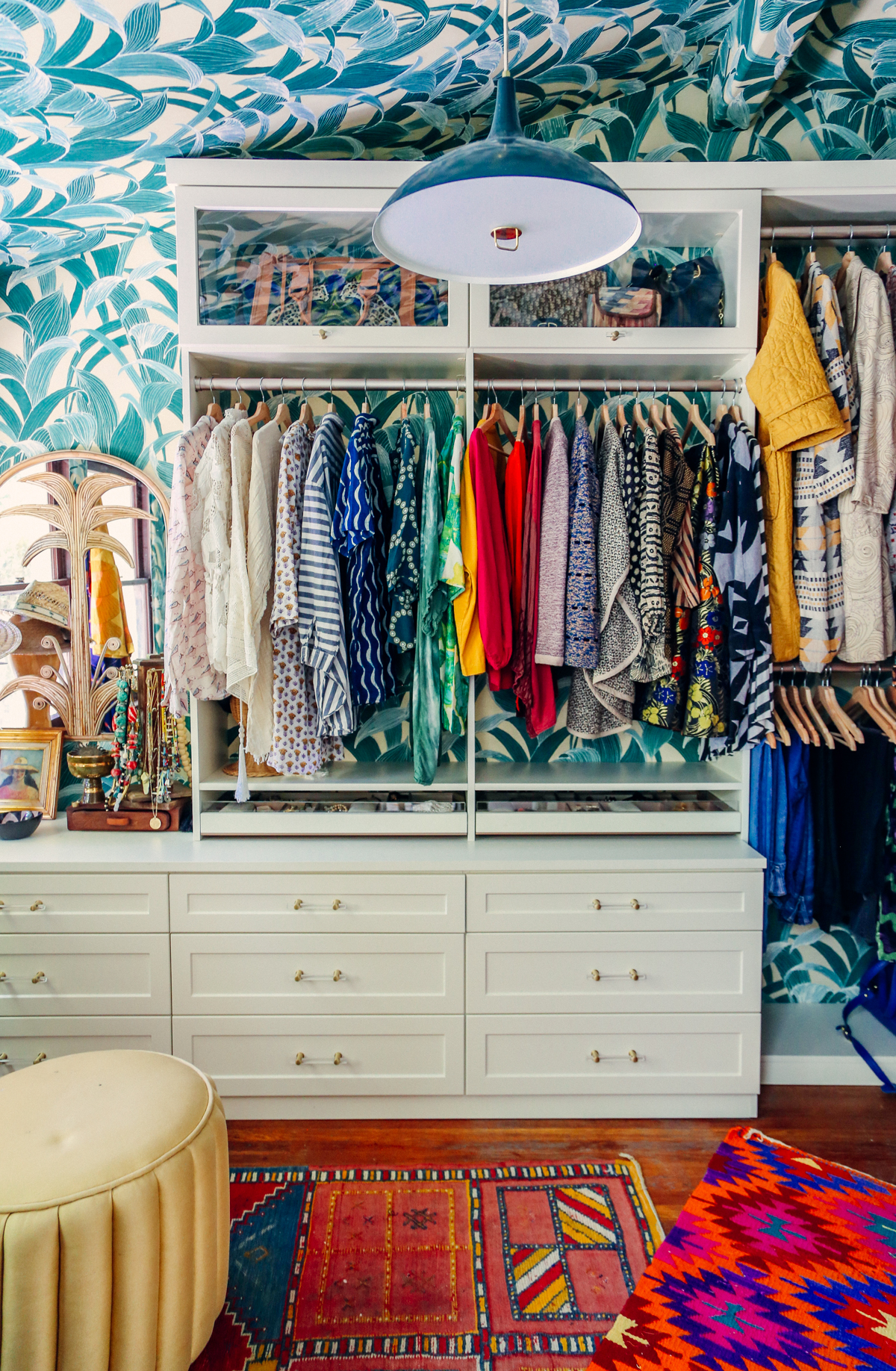 And then a little peek into my walk-in-closet. This is truly a happy spot for me!
Sources:
Closet: California Closets

Palm Tree Mirror: Opalhouse™ designed with Jungalow

Channeled Swivel Pouf, c. 1980s, Chairish.com

Pendant:

Gubi Tynell 1965 Pendant by Paavo Tynell

Wallpaper in Closet, Cha Cha Wallpaper / Jungalow.com

Rugs: Vintage Turkish and Moroccan rugs purchased while traveling
Backyard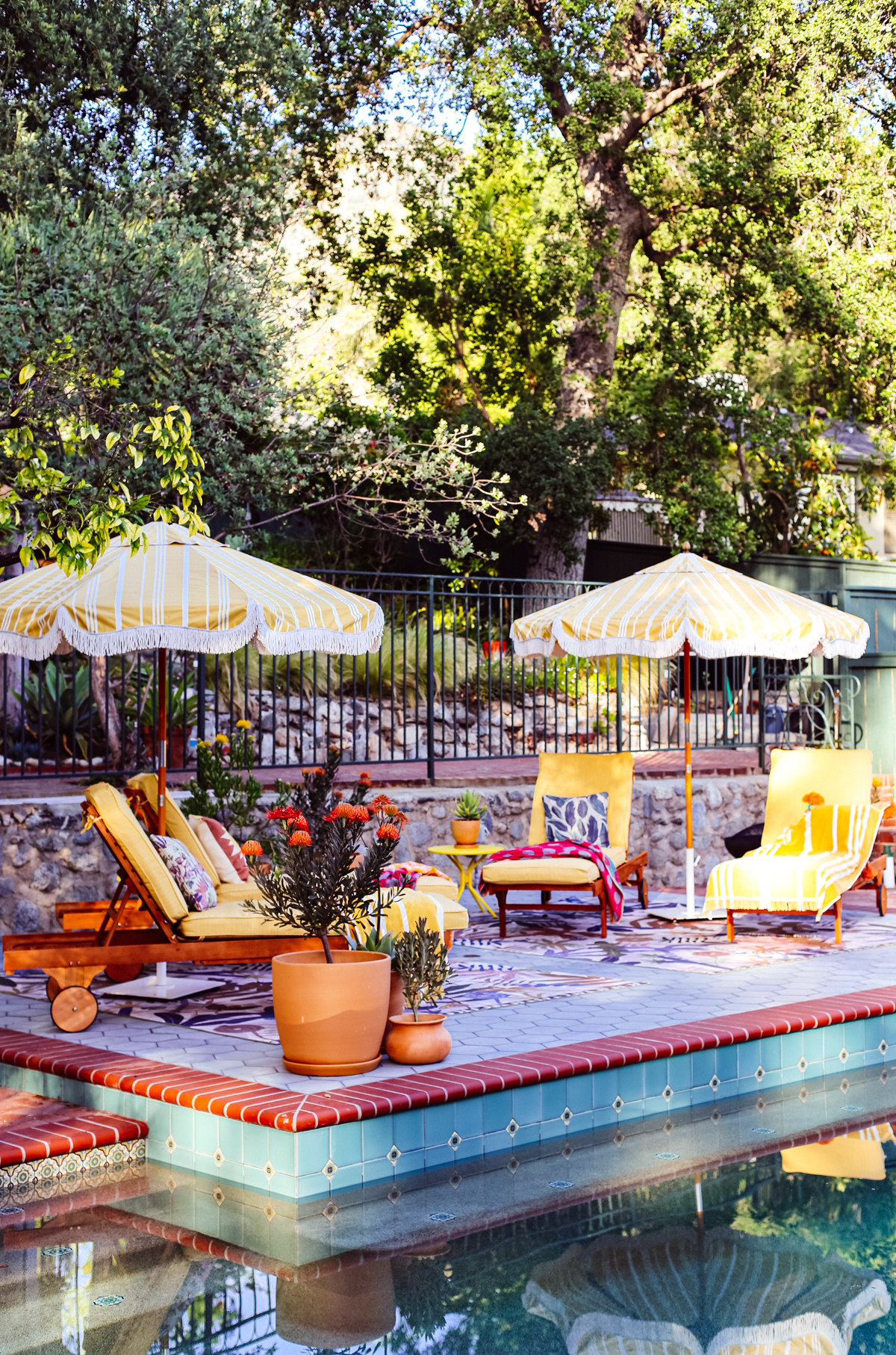 And lastly for today's home tour — we have our backyard. This is truly my lifelong dream!! I'm in this pool everyday, rain or shine (but moslty shine!) and my favorite thing is gathering with friends and fmaily out here to hang out, take dips, catch up and relax. This raised area we tiled in the same Sage Hex from Zia Tile that we used in our kitchen. I like tying together elements from the outdoors and indoors to further create cohesion and continue to blur the lines between outdoors and indoors.
Additional Sources:
Lounge chairs by Safavieh purchased from Home Depot




Lounge Cushions by Sunbrella Indoor/ Outdoor Chaise Lounge Cushions in yellow purchased from Overstock.com

Fringe umbrellas and yellow towels from Business Pleasure Co.  

Pillows, Sun and Striped pillows by Opalhouse Designed with Jungalow from Target.

Feather and bird pillows, custom made from 'Jungalow by Justina Blakeney' Inside Out Performance Fabrics from Fabricut

Rugs: Justina Blakeney X Loloi Rugs Pisolino Collection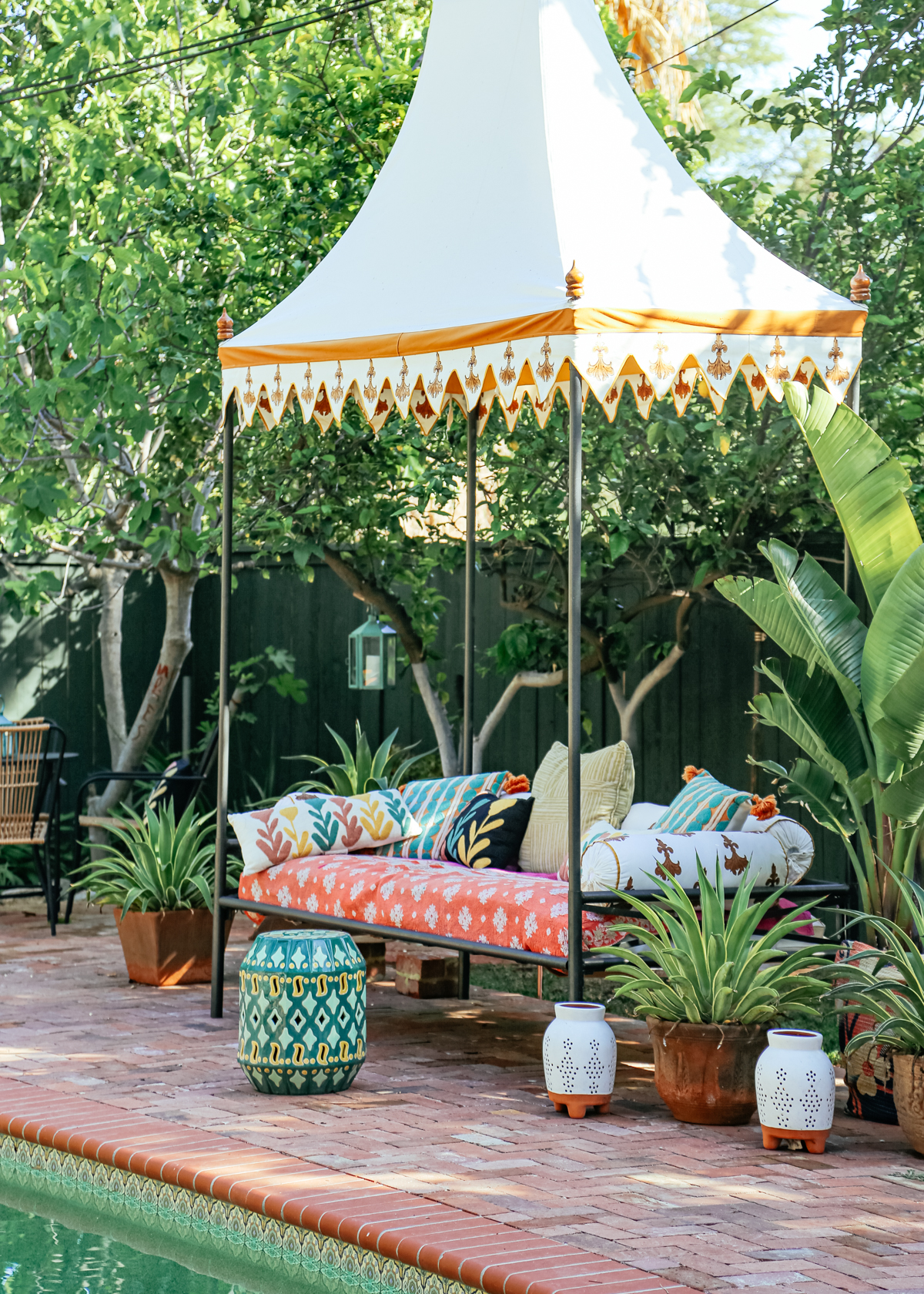 Additional Sources:
Tented Daybed is from De-cor Pasadena.

Pillows are from Opalhouse Designed with Jungalow at Target.

Yellow pillow center back custom made from 'Jungalow by Justina Blakeney' Inside Out Performance Fabrics from Fabricut

Blanket is a vintage Kantha quilt 

Stool is from Anthropologie from a few years back

Lanterns are Opalhouse Designed with Jungalow at Target

Waterline tile: 4X4 Sant Gervasi tile from

Latin Accents

, small 2X2 Sant Gervasi accent tile, 6×6 celadon porcelain field tile- Purchased from Mission Tile West in Pasadena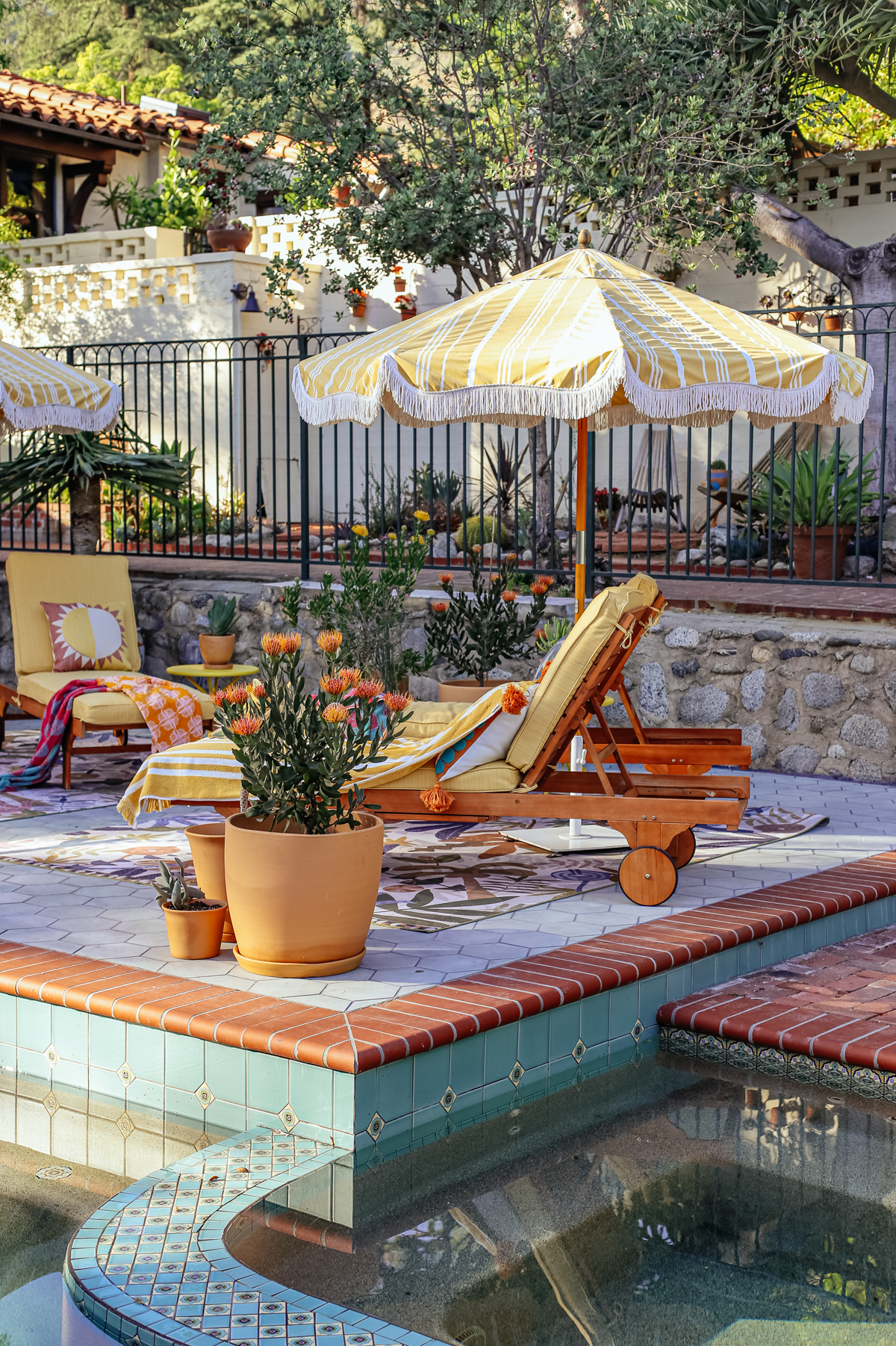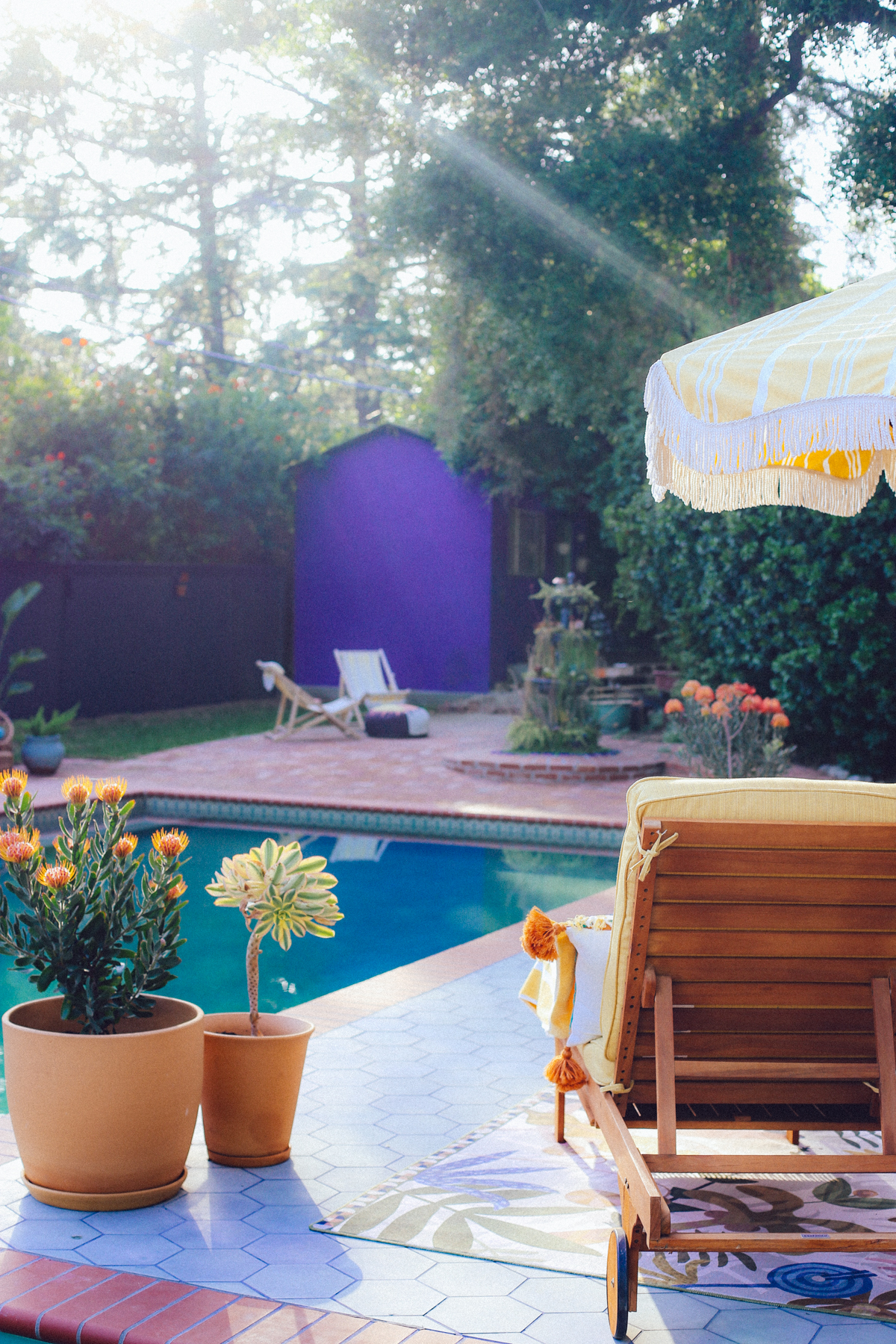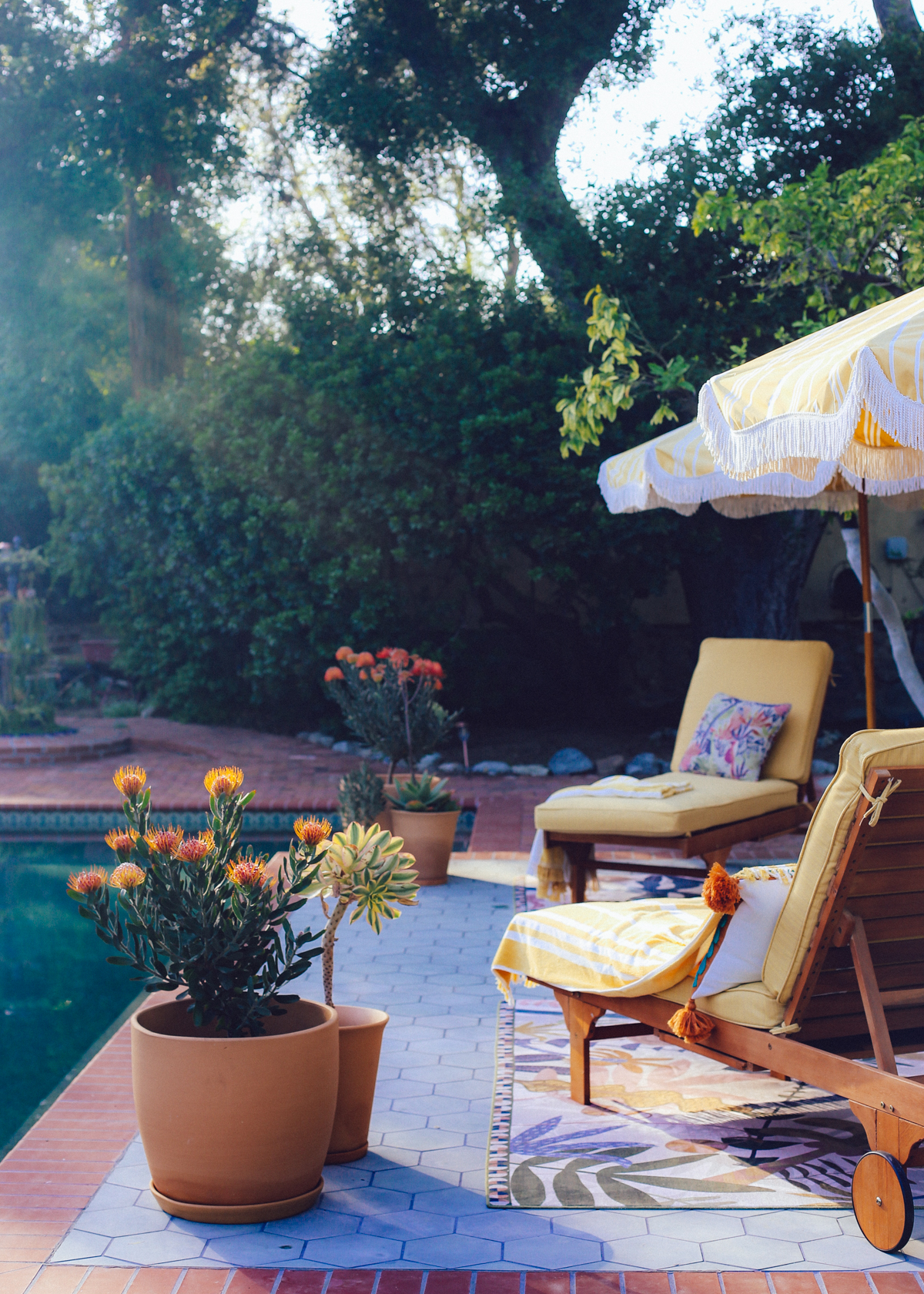 And this is where I'll leave you (or you'll leave me!) for now — but also do check out the Open Door video tour of the home over on Arch Digest if you missed it! And big huge major shout-outs go to my husband and partner in all things, Jason, who worked with me on this every single step of the way (and Ida who helped a lot too but also tolerated living in a construction zone for 8 months!!) Also huge thanks to our contractors, New Generation Home Improvements who did such a beautiful job on this on a very, very tight timeline. Also thanks to all of our partners and to team Jungalow for help with the styling and the photos!
Thanks for stopping by!
~JB