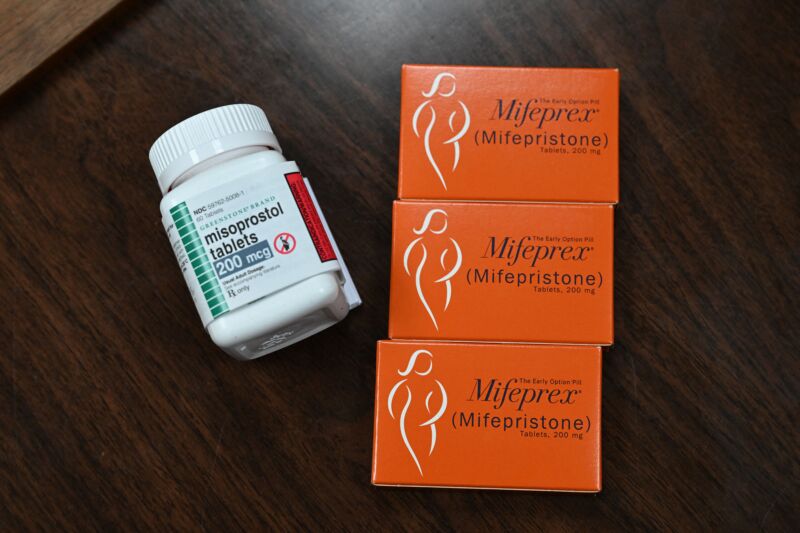 A federal judge in Texas issued a ruling Friday to revoke the Food and Drug Administration's nearly 23-year-old approval of the safe and effective abortion and miscarriage medication, mifepristone. Although expected, the ruling throws into question the FDA's authority over all medicines and threatens to weaken the country's premier drug development pipeline, industry leaders and legal experts say.
In a public letter that circulated over the weekend, executives and leaders of the biotechnology and pharmaceutical industries condemned the ruling and called for its reversal along with "appropriate restitution" of the FDA's authority.
As of Monday afternoon, the letter had around 400 signatures and was accumulating more. Among them are big players in the industry, including Pfizer CEO Albert Bourla; Alisha Alaimo, president of Biogen; Christopher Tan, an executive for Merck & Co.; Imran Nasrullah, a vice president for Bayer Pharmaceuticals; and a senior clinical leader at Novartis, Nancy Lewis. But the vast majority are from smaller biotech companies, who stand to lose the most from downstream effects of the ruling, issued by District Judge Matthew Kacsmaryk.
In the letter, the biopharma leaders chastised Kacsmaryk as an activist judge, emphasizing that he has "no scientific training," and that his ruling "ignores decades of scientific evidence," finding that mifepristone is "safer than Tylenol, nearly all antibiotics and insulin." The ruling also "fundamentally undermined" the FDA's authority to approve and regulate safe, effective medicines for Americans, which "creates uncertainty for the entire biopharma industry."
Fewer drugs, less innovation
That uncertainty, they say, will chill investments in drug development and endanger innovation. The industry is already "inherently risky," they note, referencing that most drug products don't successfully make it through clinical trials, despite requiring millions of dollars of funding over years, and often decades, of development. With the few drugs that do make it to market, drug makers rely on having years of profit from sales that can help support riskier research and development programs.
The US biopharma industry is singular in its sheer size, productivity, and innovation. It produces the most FDA-approved drugs of any country, and has some of the highest proportions of drugs with novel structures and mechanisms. The US is also an outlier in producing more drugs for unmet medical needs than others and leans on biotech companies and academic institutions, rather than just pharmaceutical companies, more than others.
But that preeminence relies on a reliable regulatory process, which is now in question with last week's ruling on mifepristone's. "Judicial activism will not stop here," the biopharma leaders wrote. "If courts can overturn drug approvals without regard for science or evidence, or for the complexity required to fully vet the safety and efficacy of new drugs, any medicine is at risk for the same outcome as mifepristone," they said.
The leaders acknowledge that FDA processes and oversight are "not perfect," but have "resulted in decades of unsurpassed medical innovation."
In a statement Friday, President Joe Biden echoed their concerns regarding the ruling's broader implications. "If this ruling were to stand, then there will be virtually no prescription, approved by the FDA, that would be safe from these kinds of political, ideological attacks," the president said.
Legal experts have said the same. "If your approval can be withdrawn at a moment's notice by a single judge, it's really kind of a scary thing," I. Glenn Cohen, a Harvard Law School professor and bioethics expert, told The New York Times.
Safe, effective, but not the only option
The Department of Justice, representing the FDA, is appealing the ruling. The FDA released a statement Friday, saying: "FDA stands behind its determination that mifepristone is safe and effective under its approved conditions of use for medical termination of early pregnancy, and believes patients should have access to FDA-approved medications that FDA has determined to be safe and effective for their intended uses."
For now, mifepristone remains available. It is used in combination with another drug called misoprostol to terminate an early pregnancy. The FDA has approved its use in the first 10 weeks (70 days) of a pregnancy. (Pregnancy is dated from the first day of the last menstrual period, not an estimated day of conception, which is roughly two weeks after the first day of the last menstrual period, or when.) The World Health Organization, however, says the regimen is safe up to 12 weeks (84 days) of a pregnancy.
Mifepristone is a synthetic steroid that blocks progesterone, which plays a vital role in maintaining a pregnancy by controlling the environment of the uterus. Misoprostol is a synthetic prostaglandin (a hormone-like substance) that induces contractions and cervical dilation. The result of the regimen is cramping, bleeding, and termination of the pregnancy. Medication abortion is used in over half of the abortions in the US.
If mifepristone becomes unavailable in the US, clinicians are prepared to use a misoprostol-only protocol, which is commonly used outside the US. It is safe, effective, and works more quickly, but it tends to involve more side effects, such as nausea, diarrhea, and vomiting. But with Roe v. Wade overturned last June, reproductive health care remains under constant, intense threat in the US. As of now, 12 states are enforcing total abortion bans, and many others have a range of restrictions.