Ukraine said Russian forces in their new offensive had captured the town of Kreminna, an administrative centre of 18,000 people in Luhansk, one of the two Donbas provinces, after a ferocious night of artillery bombardment along a 482-kilometre front line in the east.
Driven back by Ukrainian forces in March from an assault on Kyiv in the north, Russia has instead poured troops into the east for the launch of what its foreign minister, Sergei Lavrov, confirmed was "another stage of this operation" and early indications are it could go better for Russia than the first.
As a result of capturing the region around Kreminna, Russia threatens to encircle an area at the top of the eastern front that, according to one military analyst, holds as much as 40 per cent of Ukrainian troops in the region.
Russian forces have also made long-distance strikes at other targets including the capital and Kharkiv, where at least four people were killed by missiles, authorities said on Tuesday.
In one suburban street, the body of an elderly man lay face down near a park, a ribbon of blood running into the gutter.
"He worked in security not far from here," a resident named Maksym said. "The shelling began and everyone fled. Then we came out here, the old guy was already dead."
Ukrainian authorities in Donetsk said three civilians had been killed and six wounded in the previous 24 hours.
Overnight shelling in central Avdiivka had left part of the town without electricity, the regional administration said in a statement.
In Mariupol about 120 civilians living next to the Azovstal steel plant left via humanitarian corridors, the Interfax news agency said, quoting Russian state TV.
Drone footage showed people buying food and other items at a makeshift market, as well as charging their mobile phones from a generator. A Reuters correspondent said prices at the market were very high.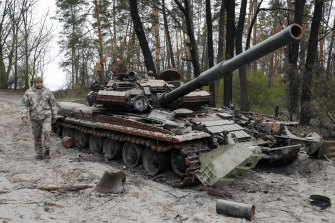 Mayor Vadym Boichenko, who has left Mariupol, said he hoped a new preliminary agreement with Russia for a safe corridor would be firmed up and hold. He hoped to send 90 buses to the city on Wednesday to evacuate about 6000 women, children and elderly people.
Mariupol has been besieged since the war's early days. Tens of thousands of residents have been trapped and Ukraine believes more than 20,000 civilians have been killed there.
"The Russian army will forever inscribe itself in world history as perhaps the most barbaric and inhuman army in the world," Ukrainian President Volodymyr Zelensky said.
"Deliberately killing civilians, destroying residential quarters and civilian infrastructure, and using all kinds of weapons, including those prohibited by international conventions," he added in a video address.
Russia has denied using banned weapons or targeting civilians and says, without evidence, that signs of atrocities were staged.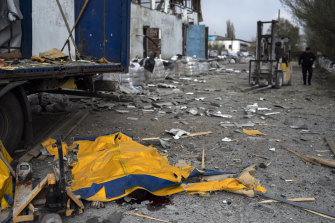 Video released by Ukraine's Azov battalion purported to show people living in a network beneath the sprawling Azovstal steel plant, where they say hundreds of women, children and elderly civilians are sheltering with supplies running out.
"We lost our home; we lost our livelihood. We want to live a normal, peaceful life," an unidentified woman says in the video.
"There are lots of children in here – they're hungry. Get us out of here."
Reuters could not independently verify where or when the video was shot.
Major Serhiy Volyna of the 36th Separate Marine Brigade, whose forces are holding out in the Azovstal Iron and Steel Works told The Washington Post that his soldiers would continue "to conduct combat operations and to complete our military tasks as long as we receive them".
"We will not lay down our weapons," he said.
Russians "constantly use aviation, artillery and naval artillery of various systems…try to conduct assault actions with the cover of tanks and infantry fighting vehicles" to break through Ukrainian defences, Volyna said.
There were at least 500 mostly untreated wounded in the plant, including civilians.
"It's in the basement where people just rot. There is no medication," he said.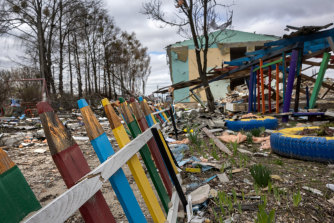 "We save water together, we support each other, try to help each other as much as possible," Volyna told the Washington Post. "Everyone is ready to continue as one."
He said morale among the soldiers remained high: "We are aware of everything, and we understand everything calmly and we continue to carry out combat missions."
Kyiv's lead negotiator said it was hard to predict when peace talks might resume because of the Mariupol siege and the new offensive.
Loading
In a swift response to the intensified assault, US President Joe Biden and other Western leaders discussed increasing military, economic and humanitarian support for the Kyiv government, and ways to hold Moscow accountable, the White House said. German Chancellor Olaf Scholz said Berlin intended to supply Ukraine with anti-tank and air defence weapons as well as long-range artillery weapons, and British Prime Minister Boris Johnson also promised more artillery weapons as the conflict moved into a new phase.
Scholz said the allies agreed Russia must not win the war, and that an imposed peace as envisaged by Russian President Vladimir Putin was not acceptable.
The Italian government said there had been "broad consensus on the need to step up pressure on the Kremlin, including by adopting further sanctions, and to increase Moscow's international isolation".
Loading
UN Secretary-General Antonio Guterres called for a four-day humanitarian pause in the fighting over the Orthodox Easter weekend to allow civilians to leave areas of conflict and humanitarian aid to be delivered.
Reuters
Get a note directly from our foreign correspondents on what's making headlines around the world. Sign up for the weekly What in the World newsletter here.