She also says she hopes the show's legacy "hasn't changed" in light of misconduct allegations against creator Joss Whedon.
As the titular "Buffy the Vampire Slayer," a lot of responsibility was thrust upon a very young Sarah Michelle Gellar at the time — responsibility that led to criticism from others on the set.
In recent years, much has been said about the tough conditions the cast and crew allegedly worked under while filming the WB (and, later, UPN) show which ran from 1997 until 2003, including allegations of misconduct against its creator Joss Whedon. Though he has denied ever threatening the cast, he did admit to yelling at them and acting "not mannerly" toward star Charisma Carpenter.
Speaking with The Hollywood Reporter, Gellar's costar Seth Green — who played werewolf Oz on the series — recalled how she would be labeled a "bitch" for simply sticking up for all of production back in the day.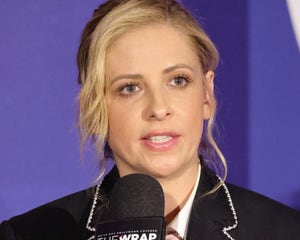 Getty
Sarah Michelle Gellar Talks About 'Extremely Toxic Male Set' Early in Her Career

View Story
"That show was just hard. We were working crazy hours, and a lot of things that got pushed weren't necessarily safe or under the best conditions. Sarah was always the first one to say, 'We agreed this was a 13-hour day and it's hour 15 — we've got to wrap,' or, 'Hey, this shot doesn't seem safe,' when nobody else would stick up for the cast and crew,'" he recalled. "I saw her get called a bitch, a diva, all these things that she's not — just because she was taking the mantle of saying and doing the right thing."
"If people think you're a bitch, it's almost better," Gellar told the outlet. "There's less expectation that way."
"There was a time when I had a reputation of being … 'difficult,'" she continued. "Anyone that knows me knows it came from the fact that I always put in 100 percent. I never understood people who don't. I've mellowed a bit in [my expectations of others] — I think because I got burned out."
Some of Gellar's other costars previously spoke out in defense of her in Evan Ross Katz's "Into Every Generation a Slayer Is Born: How Buffy Staked Our Hearts," a must-read for any "Buffy" fan. See their quotes below: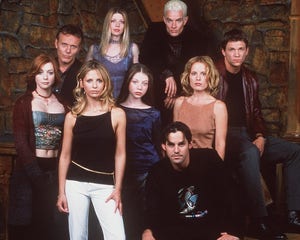 Everett Collection
Sarah Michelle Gellar on Those Buffy Feud Rumors: 'Nobody Gets Along All the Time'

View Story
Though she didn't refer to Whedon by name in the THR interview and said she'll likely "never tell my full story because I don't get anything out of it," her husband Freddie Prinze Jr. also spoke to the publication about what she was up against during her time on "Buffy."
"She had to deal with a lot of bulls— on that show for all seven years it was on. The stuff they pressed upon her, without any credit or real salary, while she was often the only one doing 15-hour days," he said, "yet she was still able to get the message of that character out every single week and do it with pride and do it professionally."
The character's message of strength and resilience is one that fans — even now — cling to and it's something she hopes doesn't change, even in light of the allegations against the show's creator.
"I'm not the only person facing this, and I hope the legacy hasn't changed. I hope that it gives the success back to the people that put in all of the work," she said of the recent discourse surrounding the series. "I will always be proud of 'Buffy.' I will always be proud of what my castmates did, what I did. Was it an ideal working situation? Absolutely not. But it's OK to love 'Buffy' for what we created because I think it's pretty spectacular."
Now, she's starring on the "Teen Wolf" spinoff series "Wolf Pack" for Paramount+, on which she's also an executive producer. She told THR she gave out her phone number to all her young co-stars, promising to address any concerns they had after her own experience as a teen on set. After one crew member's alleged offers of back rubs made one castmember uncomfortable, he was axed from the show.
"I hope that I've set up an infrastructure, a safety net for these actors that I didn't have," she said. "My generation just didn't have that."
"Wolf Pack" premieres January 27 on Paramount+.