Spring is around the corner and I'm here for it! For me, spring symbolizes growth, optimism, and possibility: the dormant trees are starting to blossom, the days are getting longer now that winter is behind us, and everything is more vibrant and alive! For our latest Opalhouse designed with Jungalow collection, I wanted to bring that same energy into all the designs. This collection is packed with bold color, botanical motifs, and playful patterns. The inspiration behind this drop was "an artist's loft" so you'll see a lot of my original art sprinkled about in a bright, airy space we think any artsy creative would love to chill in. An artist's loft is a multi-functional space (bedroom, studio, classroom, meditation space, closet, living room, and lounge) so we have lots of versatile pieces in this collection that you can use in different spaces in your home. Want to see more? Let's go! 
Throw Blanket | Chenille Quilt | Sun Trinket Box | Teal Planter | Floor Cushion | Rug
Our playful palette for this collection includes lots of rich, vibrant tones – both warm and cool. We focused on terracotta, gold, and teal and then sprinkled in some Majorelle blue and included pops of purple for an unexpected twist!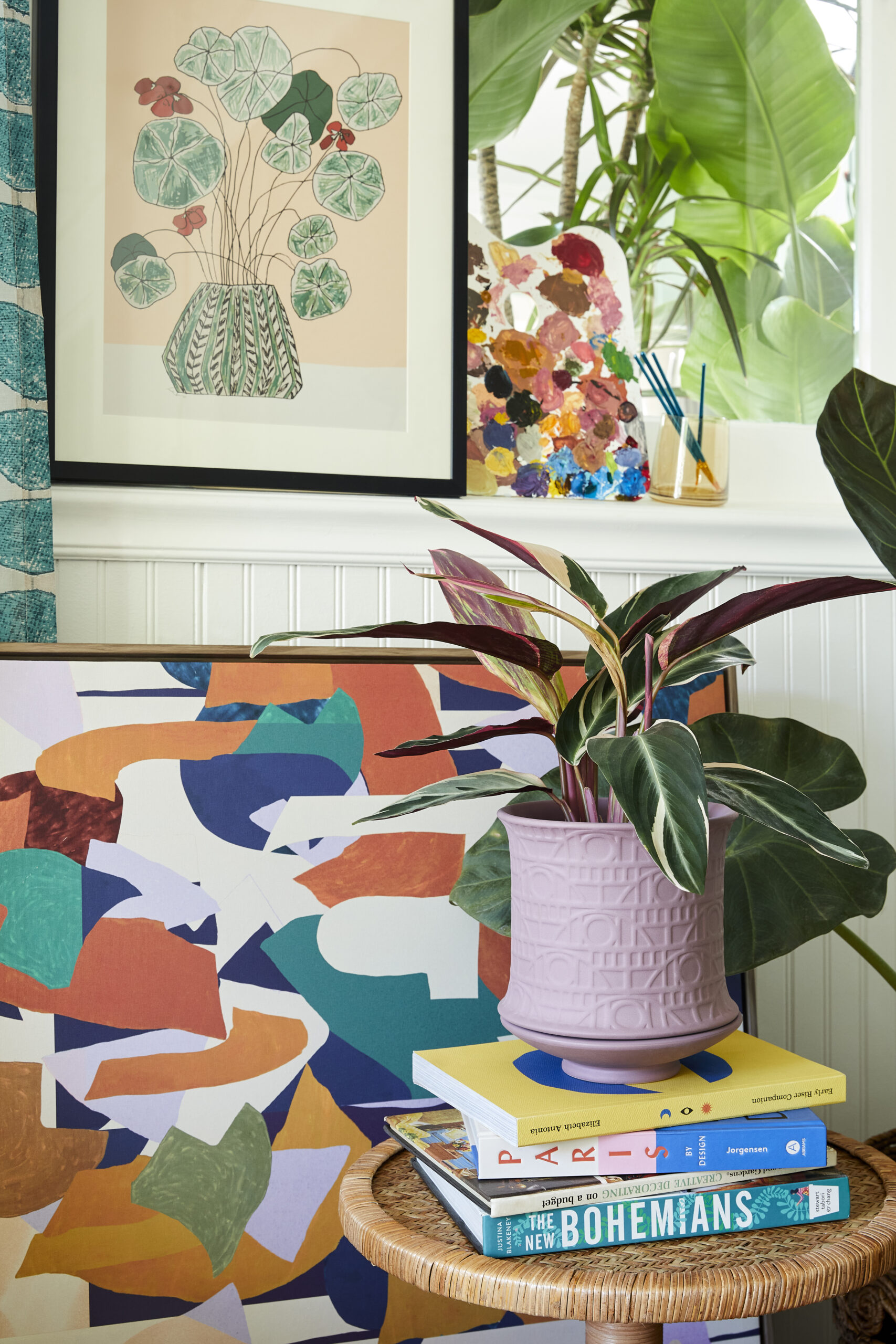 Framed Art | Purple Planter
An artist's studio wouldn't be complete with out lots of inspiration and well . . . ART! The amazing Target team and I worked closely to weave in as much of my original art and patterns onto lots of different pieces in this collection so the items could speak to one another. For example, we took one of my originals and created the abstract, colorful  framed canvas you see above (isn't she pretty?), and then we took the same pattern and applied it onto a gorgeous bolster pillow (below & don't tell but she is only $35!).
Curtains | Rattan Headboard | Side Table | Geometric Textured Pillow | Tasseled Pillow
Bolster Pillow| Ceramic Table Lamp
In addition to art, we also have so many cute ceramic decorative accents like vases, candle holders, wall hooks and baskets (all under $40) – not to mention some funky lighting options and furniture perfect for an impactful entryway! Nothing like a first impression – so why not make it a fun one?!
Eyes Wall Hook | Framed Art | Purple Face Vase | Pedestal Basket| Woven Basket with Handles | Wire Basket | Floor Lamp| Rug
Green & Blue Face Vase | Blue Vase| Gold Catchall | Console
Sort of obsessed with this floor lamp, because LOOK AT THOSE LINES! Anything raffia wrapped always makes my heart skip a beat!
This collection also features some of my favorite pillows ever!! We've got beads, peace signs, lizards, sun faces, tassels, and so many yummy textures and colors! And they are all under $25.
Ain't no party like a pillow pile party cuz a pillow pile party don't stop!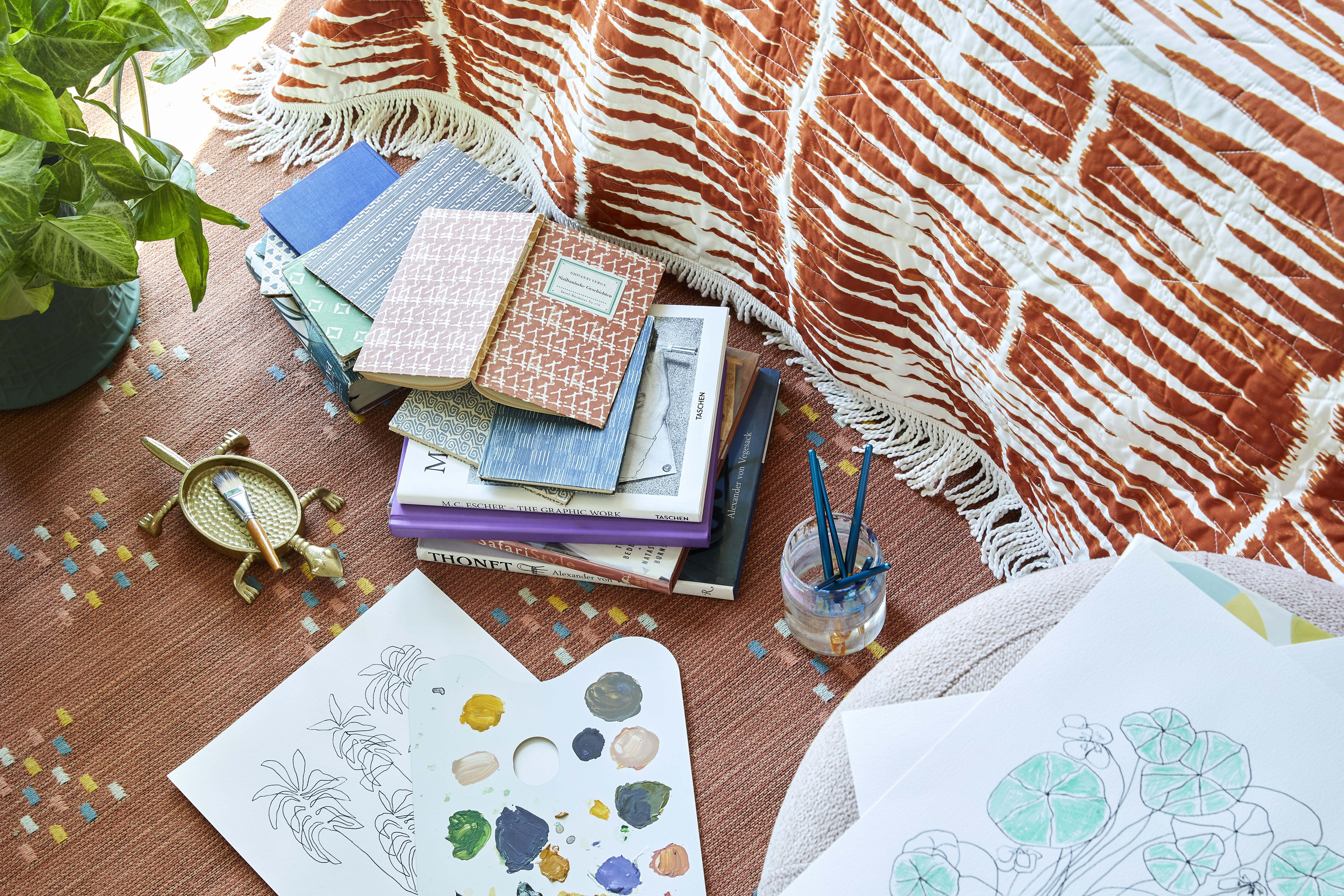 I'm also really excited about the rugs we have in this collection. This terracotta one might be my fave because the colors and details are so good.  Plus, it absolutely sings with this warm, tasseltastic bedding!
Can't wait for you to see it all! Check out the entire Opalhouse designed with Jungalow collection here. Would love to know which pieces you're feeling!
Photos by Jenna Peffley