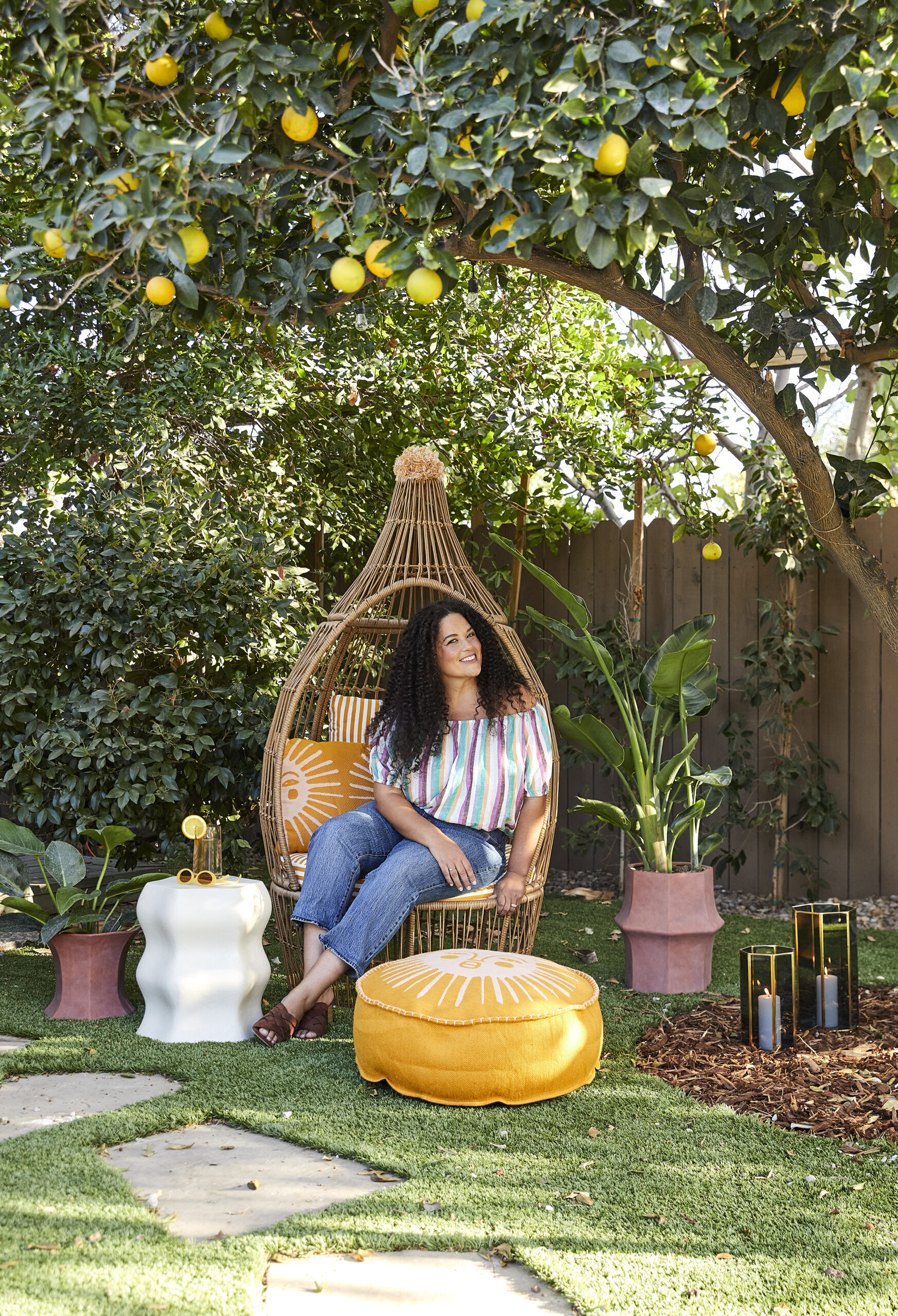 Here in southern California, we just had one of the biggest rain storms we've had in years! It lasted a couple of weeks and now that the sun is back, the air is fresh, and everything is green and vibrant, I'm really craving spending more time outside. If you're also looking forward to ditching those rain boots, getting outside, and feeling the grass in between your toes, I have just the thing (well… things, plural) for you: the latest Opalhouse Designed with Jungalow outdoor collection at Target! We've got outdoor seating, pillows, planters, and pom poms in this collection. So dust off those sunnies, grab a wide brimmed hat, and let's get into all this jungaliciousness!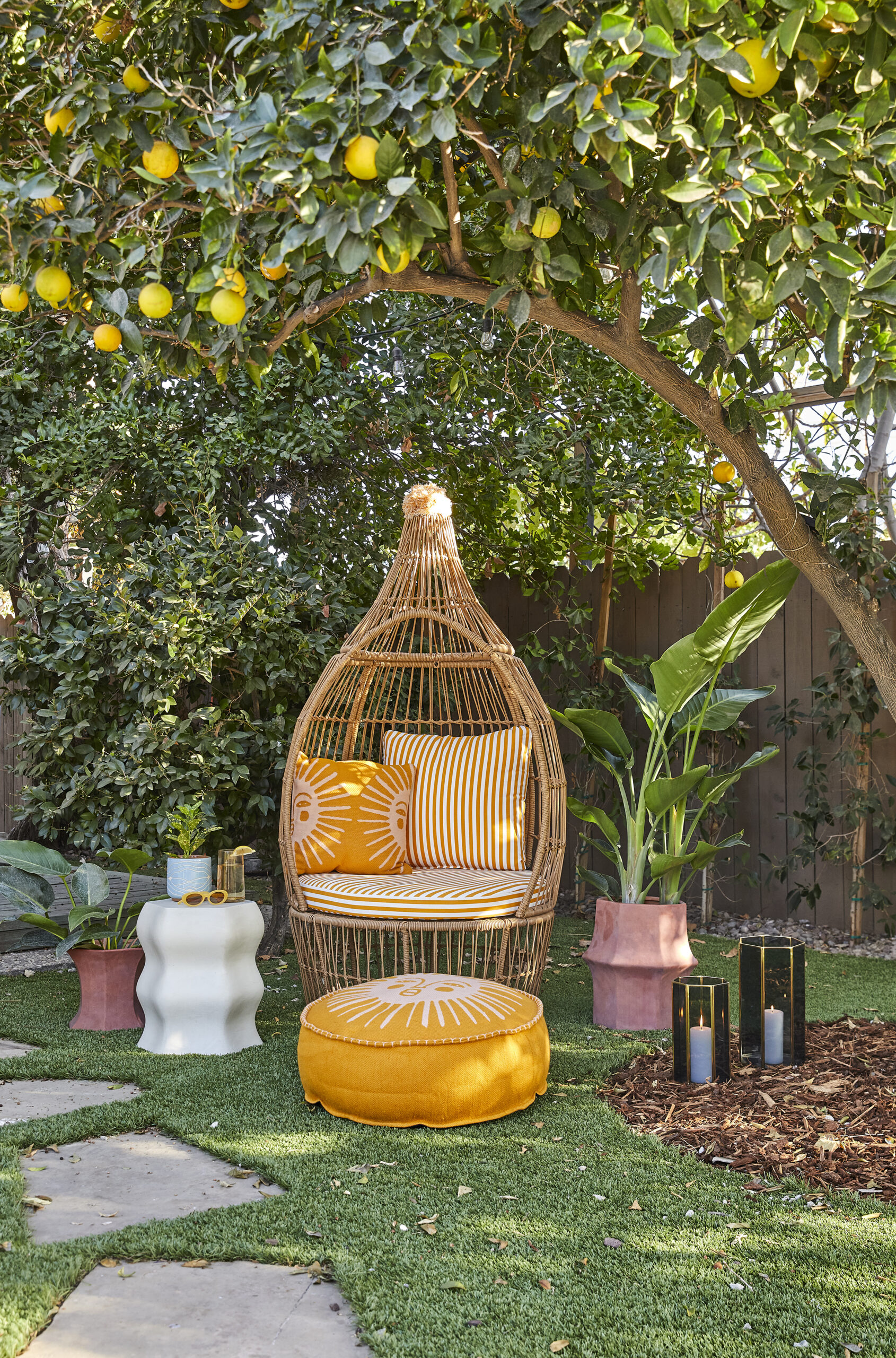 I'm loving this bright and bold sunny moment featuring our rattan pod , sun pouf and matching outdoor sun pillow. The yellow stripes on the pod cushions remind me of striped awnings I used to see when I lived in Italy – there's something so timeless and fun about a classic stripe. And the chunky pom pom hat on top of the pod has got to be one of my favorite design details in this collection. It's giving limoncello vibes!
For this collection, I wanted to bring earthy tones and organic shapes to the forefront – especially in the form of planters. Planters & plants are SUCH a great way to create visual interest in any outdoor area. They can also be used to define a space, make an otherwise sterile space (like a concrete balcony) more alive, and they can be used to help plants that might need a little more TLC become mobile, rather than stationary in the ground, if their light and watering needs are different than their plant neighbors that are in the ground. And for those of us who may not have any outdoor space around our homes, planters are the best way to bring the outdoors in! Indoor plants add so much life, color, and dimension to any room. These terracotta planters come in a couple of shapes and sizes and are the perfect vessel for large indoor or outdoor plants. I also love the wavy pattern on the light blue planter – reminds me of ripples in a body of water. Peppering botanicals and lanterns in various sizes, and at different heights (like on top of this wavy side table) not only guides your eye across the space but it also creates a layered look that you can curate either indoors or out.
Topanga Club Chair | Pink Planter | 10″ Terracotta Planter |15″ Terracotta Planter
This is a whole vibe!!! I have a not-so-secret love for pattern, but did you know that I also love a matchy matchy pattern moment? Having the same pattern repeat on multiple surfaces, like we did here on the sun umbrella, pillows and ceramic side table, is a great way to create cohesion and adds an unexpected throw back to the 60s and 70s when folks often had the same print or pattern on their curtains, sofas, and table linens. Kind of a modern twist on a vintage trend.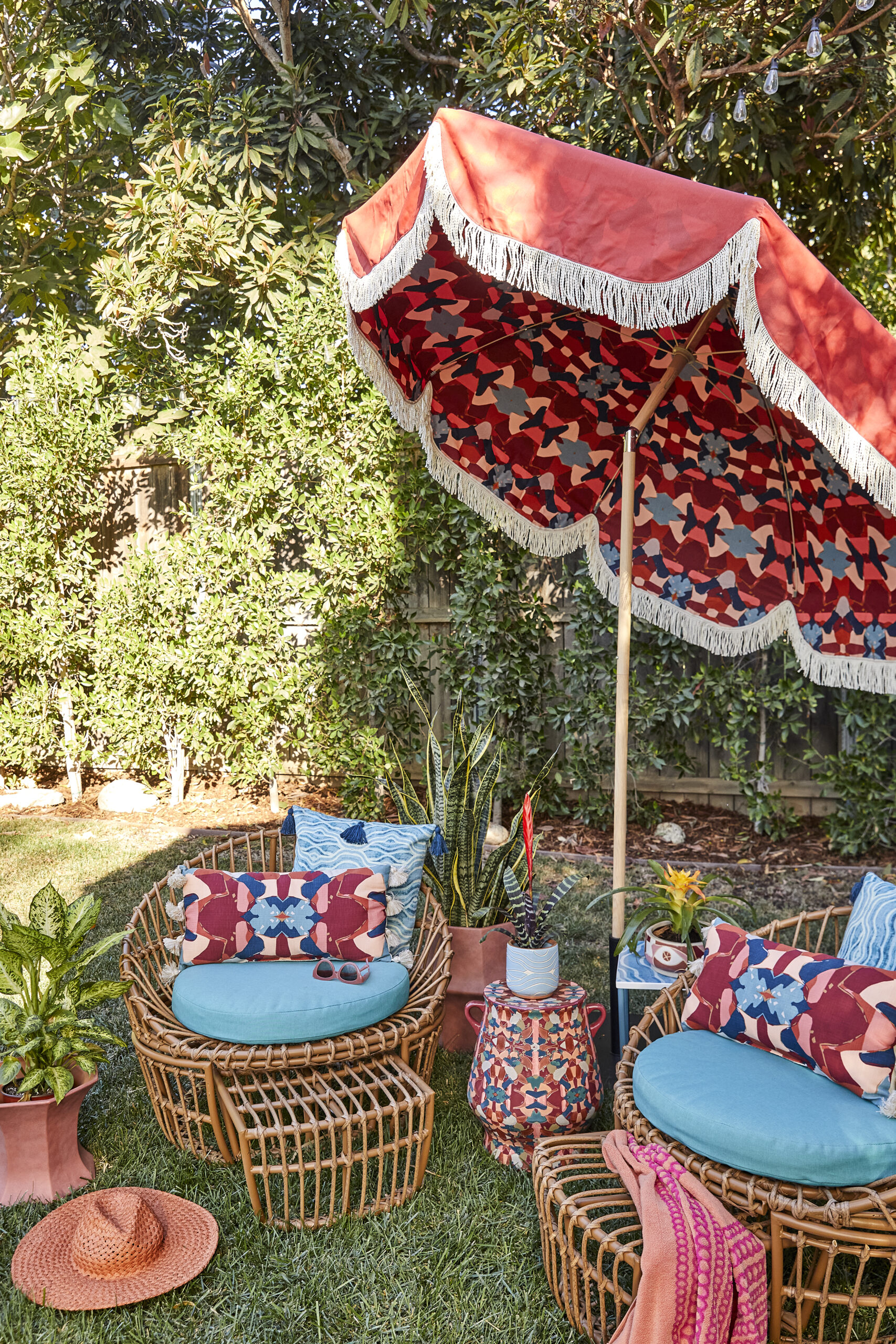 If you want to go a little more subtle in terms of a matchy matchy patterned moment, or you don't have a big outdoor space, and want to try this trend indoors, you can pair the aqua printed pillows with the blue plant stand and aqua planter (loving the price point, btw… only $20!).
It's always hard for me to choose a favorite item from a Opalhouse Designed with Jungalow drop, but I think this umbrella might be ONE of my faves from this collection! The pattern (which I created by taking elements from one of my paintings and digitally piecing them together), the fringe, and the fact that it tilts so you can angle it to block the sun as it moves through the sky just make me happy!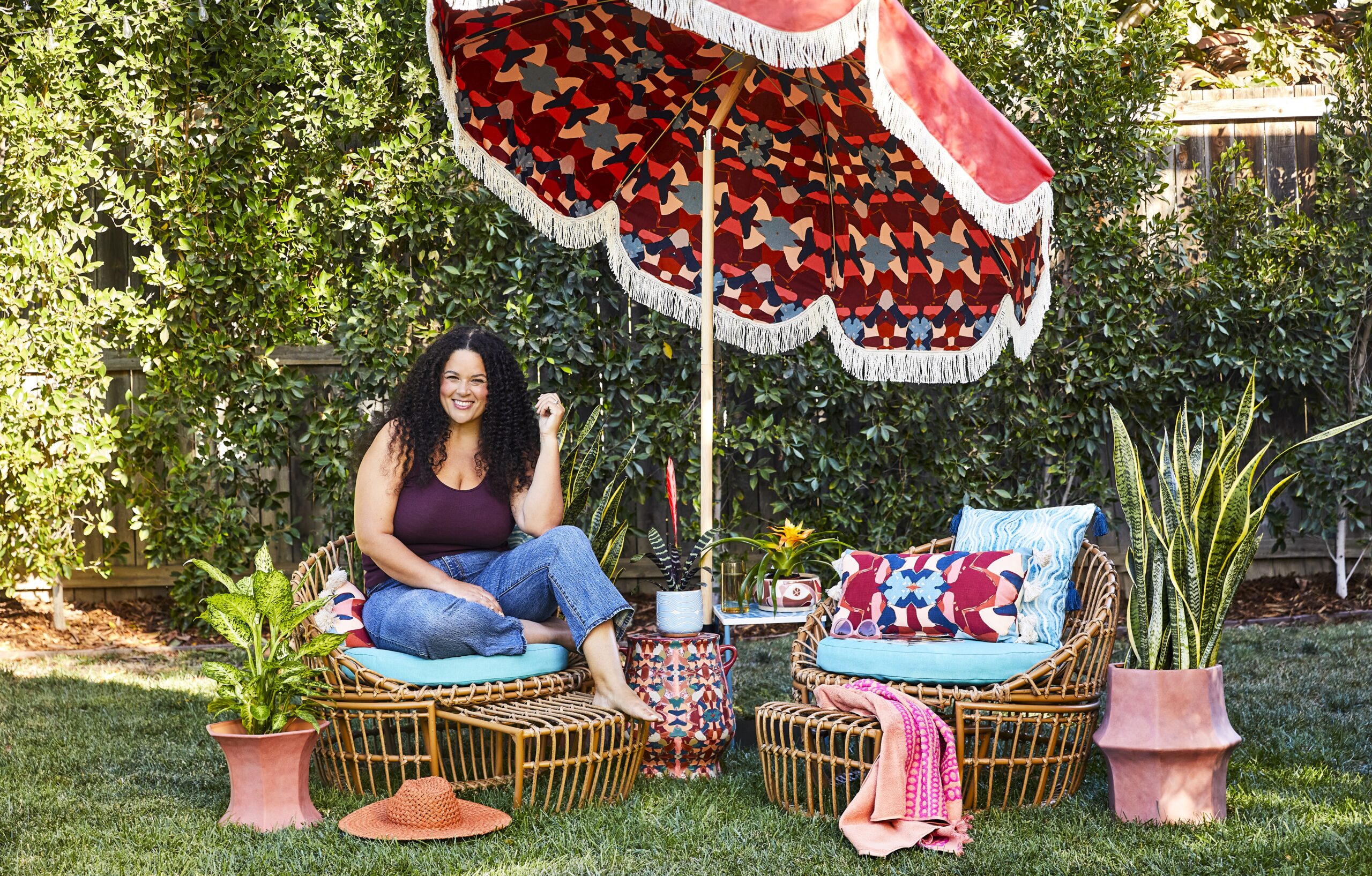 Thanks so much for joining me on this sunny adventure! Can't wait to have a mojito (or two!) out here. If you're ready for some jungalicious outdoor vibes, check out the Opalhouse Designed With Jungalow collection here.
Photos by Jenna Peffley