New Poll Shows More Than Half Of Europeans Support Cannabis Legalization
A new study conducted by Hanway Associates, a research and advisory firm with a focus on cannabis, reveals that over half of Europeans are in favor of legalizing marijuana, reports Bloomberg.
"The narrative around cannabis is now less about scaremongering," explains Hanway Associates founder, Alastair Moore. "This move away from resistance to acceptance is a good sign for entrepreneurs and investors entering the market."
Out of all the nations in the European Union, Portugal and Italy were the most supportive of all. However, the two countries are yet to pass significant drug reforms. In addition, it was ironic that the Netherlands was the least supportive of all. The Netherlands has long been home to the world-famous coffee shops that sell cannabis and mushrooms. Just 47% of participants from the Netherlands are in favor of cannabis legalization, the lowest out of the 8 countries who were polled.
"We view this not just as an economic opportunity but a chance for policy makers and politicians to start discussing legalization because it is inevitable," explains Antonio Costanzo, Curaleaf Holdings Inc. international chief executive officer. "There is both political and public support."
In Canada, Six Terminally Ill Cancer Patients Allowed To Be Medicated With Magic Mushrooms
The first legally produced psilocybin was allowed to be given to 6 terminally ill cancer patients by Health Canada. Psilocybin is the compound responsible for magic mushrooms' psychoactive and hallucinogenic effects.
Last January, Health Canada adjusted their regulations in order to allow doctors to ask for access to psilocybin manufactured locally for terminally ill as part of a special access program. Even though psilocybin is still illegal in Canada, there have been numerous studies supporting its benefits for terminal illness and end-of-life anxiety among people with cancer. With the new rules, patients have to be approved through the Health Canada program in order to obtain access to lab-made psilocybin manufactured by a licensed dealer.
The treatment is designed to help alleviate symptoms, though it won't treat cancer.
Thomas Hartle, the first ever Canadian to be legally allowed to take psilocybin-assisted psychotherapy back in 2020, was also one of the 6 people allowed to take the drug together with therapy. Initially, he sourced his own mushrooms then used them together with his therapist though under the special access program, he was provided with medical-grade psilocybin from Psygen Labs then underwent group therapy with the other 5 patients.
"Magic mushrooms allowed me to calm the worries in my head, allowing my body to use my energy for healing instead and process those fears in a supportive environment," he disclosed to The Sun.
New Zealand MMJ Company Receives Government Grant To Develop Industry
Puro, a medical cannabis company located in Marlborough, New Zealand, received what is one of the biggest grants that have ever been given by the government for a primary industry. The grant will be used for them to develop a guide for other MMJ companies.
The grant, worth $13 million, is a representation of industry and government partnership so that patients in New Zealand will enjoy better access to cannabis medicine that has been locally grown. Puro started planting last December 2020; they have 2 cultivation sites: Waihopai Valley and Kekerengu. Additionally, the grant will help speed up establishing the organic MMJ industry in the country so that other local companies can follow their blueprint.
The grant will also be used for creating an organic production guidebook for both indoor and outdoor growing. They will be working to create unique plant varieties as well as seeds that the New Zealand industry can use, as well as study efficiencies that can be followed after harvesting. It will even be used for developing training opportunities for individuals who want to join the industry.
"The fund allows us to prove concepts. Here is a good example with a drying system that we have developed and engineered here in New Zealand so if we can get something like that going, it is portable, and it could be available for growers around the country, and it's scalable," said Tim Aldridge, Puro's managing director. "So the fund allows us to try a few different methods and a few different approaches. We are creating learnings for the New Zealand industry," he added.
First Marijuana Spa To Open In Switzerland
Switzerland's Schlosshotel Zermatt now offers the first marijuana-scented relaxation spa located by the foot of the majestic Matterhorn, reports High Times.
The offerings are designed to attract a luxury market who come after ski; some of these include yoga using cannabis-scented oils, 80-minute massages, alpine herbal compresses, neck and head massages, and hemp muesli among others. Upon entering the lobby, guests can smell the aroma of the hemp plant.
While it may take some time for budget offerings of this variety to become available, many say it's only a matter of time. Wellness in the hotel industry has long been a draw for travelers headed to Switzerland, which has established itself as a kind of hub for wellness retreats not just during the winter, but the summer as well.
The spa's owner, Alex Perren, invested a serious amount of money to acquire the hotel back in 2019, reports Benzinga. He had an idea in mind to set up a CBD spa to attract younger guests. "We were the first. There is constant demand for the CBD program," Perren explains.
Currently, the use of CBD is unrestricted in Switzerland so this luxury spa offering is safe as well as legal. There are also many programs underway with the intention of legalizing recreational cannabis in the country.
MORE HEADLINES, READ THIS…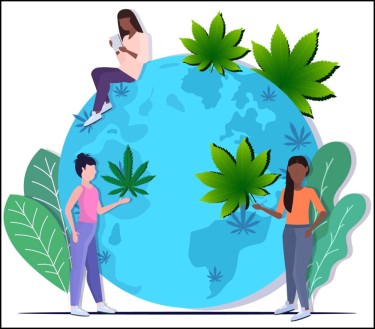 GLOBAL MARIJUANA NEWS HEADLINES IN 60 SECONDS OR LESS!