It is currently estimated that 17,000 people in the UK have received legally prescribed cannabis to treat various ailments, including chronic pain, depression, sleeplessness, and Parkinson's. But many people continue to use the black market either because they are ignorant of the 2018 legal change or because drugs are inaccessible in their location.
Recently, A Crohn's disease-afflicted South Wales mother of one described how she had hardly enough energy to care for her kid when she decided to obtain the plant illegally. She claims her stomach pains and agony have been relieved by cannabis, and she now has a legal prescription. This allows her to be more active, work, and spend time with her family.
Many people like this woman see the black market as a savior and risk their health to buy untested products.
Many Britons Resort to Black Cannabis Market Due to Limited Access
Cooking cannabis into brownies, according to a natural medicine expert with experience in clinical research, significantly reduced a Briton's father's Parkinson's-related symptoms and improved his sleep.
A DJ and director from north London who had previously battled the uncommon illness Hodgkin lymphoma described how getting access to the medication reduced her agony. It turned out to be even more crucial after chemotherapy damaged her hip bones, causing misery and necessitating a replacement.
All of these folks have one thing in common: Despite researching the medical advantages of cannabis, it took them some time to realize that it has been legal in their jurisdiction since 2018.
In an interview with Metro.co.uk, Sam Ashton, 50, and her 15-year-old daughter Ariana said that cannabis has made it possible for her to enjoy her family life again. Although many still face obstacles, the legislation was altered that year due to parents of seriously epileptic children who successfully lobbied the government to allow their kids access to medicinal cannabis oils. At the time, it was a meaningful sign, but there was little coverage of patients utilizing the medication to treat multiple sclerosis, ADHD, or anxiety.
Sam opted to continue using cannabis after the treatment, but only in small doses before night. She had found that smoking pure cannabis in a little pipe helped reduce her nausea and excruciating bowel cramps. She mentioned that her gastro-consultant was informed and supportive because she had already discussed taking cannabis for medicinal purposes with him for over three or four years.
Jon Robson, managing director of the medical cannabis facility Mamedica, was shocked to learn of the drug's accessibility. He told Metro.co.uk that he could not believe that the NHS was delivering followers to the post a year ago because he's aware that there are over 10,000 residents who were paying from their own pockets for medical cannabis. He also claimed that one of the factors preventing accessibility is the NHS's continued reluctance to recommend prescriptions, stating that more convincing evidence is required before recommending widespread medications.
Jon mentioned that he didn't believe that patients were receiving value for their money; he said that they would be talking non-stop about how it was benefiting them if they were.
Zero to 17,000 Patients In Four Years
Over the past four years, cannabis patient numbers have increased from zero to 17,000. Many believe the quality of the product has improved, and the price has decreased. The NHS has been urging more patients to discuss how medicinal marijuana has improved their diseases and as more consultants prescribe it, more patients report favorable outcomes.
According to Jon, out of the 17,000 medicinal cannabis patients in the UK, 10,000 will return frequently, and 60–70% are given the plant's flower rather than oils. For example, Mamedica's flower prescriptions are just for dry-herb vaporizers, which allow patients to heat the plant and consume its components as a vapor rather than smoke. According to Jon, 60–70% of patients who visit Mamedica deal with chronic pain, and many seek less addictive and perhaps more effective medication options.
The Department of Health has said that eight million people suffer from chronic pain in the UK, 24% of whom are given opioids, and around three million may be eligible for our program. In the UK, 23.9 million prescriptions for opioids were written in 2017. They are well acknowledged to be addictive and potentially cause dependency in the medical community. The NHS claims they want to make folks who are turning to opioids aware that there is an option that doctors do endorse.
Prescriptions for cannabis strains with greater THC levels may be harmful to patients with psychiatric conditions, while those containing CBD, another plant ingredient, may be "beneficial," according to Jon. The primary component of marijuana, THC, causes users to feel high, but CBD does not result in intoxication and, according to a recent study, has antipsychotic properties. Therefore, for specific individuals, strains bred to contain fewer dosages and more of the latter may be more suitable.
Negatives of Buying From Cannabis Black Market
Although many people continue to use the black market, there is no way to ensure product uniformity or quality. This puts the health of the public at risk.
A singer, screenwriter, director, and actress from north London named Savannah King was one of the patients who at first turned to the illicit market. The DJ and musician, who is 26 years old, had a Hodgkin cancer diagnosis in 2018 and has subsequently entered remission. She discovered that consuming cannabis that had been illegally procured helped her feel better when she wasn't feeling well. She didn't learn about Mamedica until June of this year when she paid £250 for a consultation and 20 grams of cannabis.
Savannah noted that at the time, she felt it was pure, clean, and wasn't be sprayed with any glass."
Bottom Line
Half of the patients who have tried cannabis purchased from the black market have experienced one or more adverse effects. Now, folks are becoming knowledgeable and aware of the many classifications and families of cannabis strains. Jon Robson emphasized that medical treatment programs for patients are meticulously optimized to manage their diagnosis.
UK CANNABIS AND WEED, READ ON…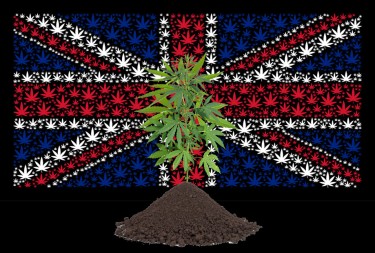 BEXIT AND CANNABIS – EUROPEAN NEWS UPDATE!