I don't know about you guys, but I'm READY for the holidays this year! I'm ready for a little rest, cuddling by the fireplace, and hanging out with loved ones. And since we intend to share moments of gratitude and joy with friends and family, we hope to share a little Christmas cheer with all of you as well with our new Opalhouse Designed with Jungalow Christmas collection, available exclusively from Target.
Velvet pigeon pillow | Pom Pom Pillow | Dove & Peace Ornaments | Tassel tree decorations
In designing this collection, I put a lot of thought into what the holidays mean to me and how I wanted to feel about the Christmas season. Cross-culturally, pigeons have a meaning as a bringer of peace, love and hope, and so I decided to integrate pigeon symbols into the entire collection. You will also find peace signs, tassels (which are symbols of protection in many cultures) and many, many trees – because you all know how I feel about trees!
Golden tassel tree | Red tassel tree | Pink tassel tree | Jungalow: Decorate wildly | The New Bohemian Handbook | Small candle | Big candle | coffee table
My aim is to hold on to traditions that shine for me and also to create new family traditions. I loved having the freedom to design pieces for both Christmas and Hanukkah (both celebrated in our household) for this collection. There are also pieces that are purposely fun and festive but can be used all season – no matter how and when you want to party. We leaned against a non-traditional color palette – but one that still feels warm, happy, and bright.
Yellow slipper chair | Stocking | Synthetic leather pouf
This camel pillow could be one of my favorite pieces from the collection. I want to go to … his Christmas party this year! And as in previous seasons, I could not help shape only the vessels for the candles, but also curate the scents and are undinnen soooooooooooooooooooooooooooooooooooooooooooooooooooooooooooooooooooooooooooooooooooooooooooooooooooooooooooooooooooooooooooooooooooooooooooooooangangsam and sooooooooooooooooooooooooooooooooooooooo have an effect guteoooooooohohe I like in recent seasons! We have cedar and moss, tangerine and patchouli, tangerine and turmeric, raspberry and persimmon and more! (And they start at just $ 5!)
Cutlery | Table throw | Dove table runner | Geometric table runner | Brass Dreidel | Starter plate | Pointed sun plate | Coaster with tassels | cups
More favorites? The Hanukkah tabletop collection. It was * very * fun designing my very first Hanukkah collection and I love how these pieces came out! (Can we get some props for this pigeon tray? I mean, how cute ?!) Latkes and sufganiyot are going to be especially tasty this year, right?
Wall hanging | Mirror | Blue slipper chairs | Blue litter | Yellow candle holder | Petrol colored candle holder | Dove menorah | Pigeon wreath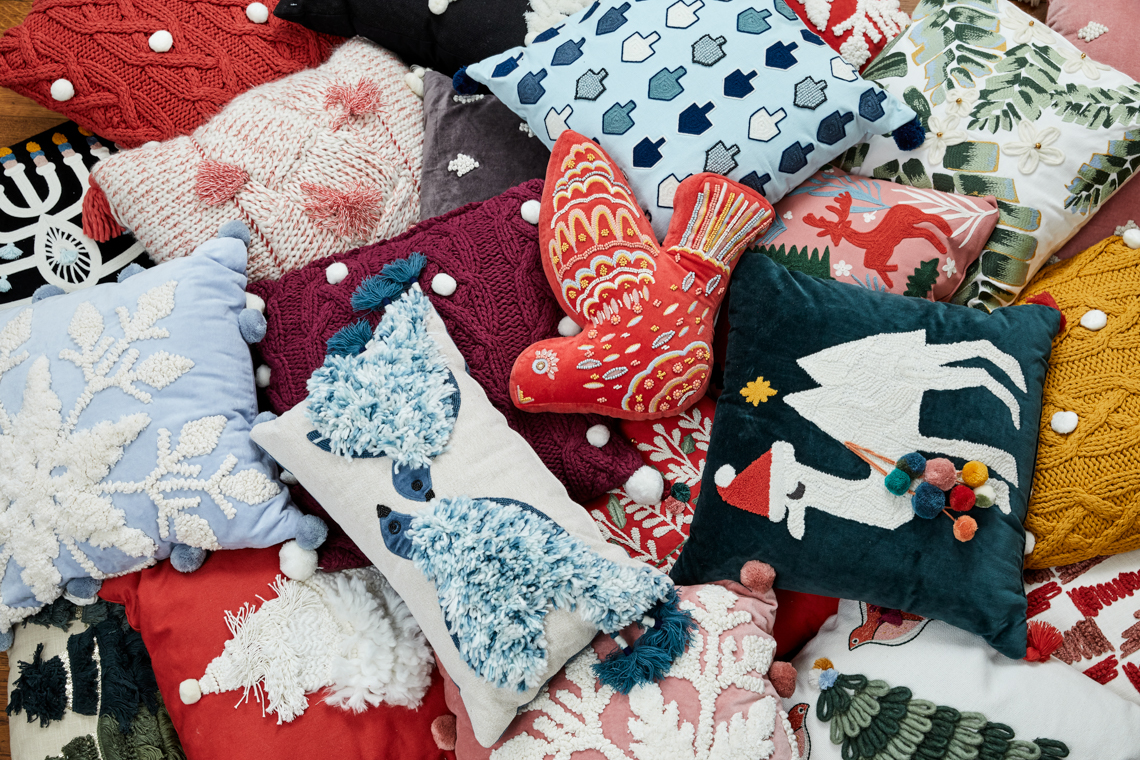 One of the easiest ways to decorate for the holidays? Add some cheerful pillows – and our Opalhouse-Designed with Jungalow collection has no shortage of festive, fun pillows. We have dreidel and doves, snowflakes and menoras, trees and reindeer and all the pearls, tufts and pompoms you can think of. The holidays are getting a little wild this year!

Countdown Calendar | Face Wall Planters | Pigeon framed art | Green stocking | Red stocking | Purple candle holder | Tassel tree garland
At the beginning of the season, I wish all of us that the pigeons will bring us hope, peace and love.
1. Pigeon bowl
2. Dove menorah
3. Tassel trees (available in two sizes!) Blue | Red | Pink | Teal | violet
4. Starter plate
5. Green stocking
6. Camel pillows
7. Pigeon wreath
8. Candle with lid
9. Tree Throw Pillow
10. Countdown calendar
Photography by Jenna Peffley